House of Cards
(1992)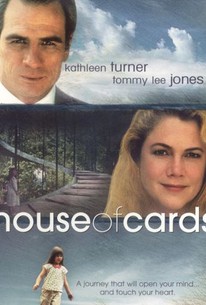 Movie Info
In Michael Lessac's lugubrious House of Cards, women's intuition beats out psychology in the battle against autism. The story begins in Mexico, where a little girl named Sally Matthews (Asha Menina) lives with her parents, scientists studying ancient ruins. When her father falls to his death, Sally is comforted by a Mayan mystic that tells Sally her father has gone to the moon. When Sally, her mother Ruth (Kathleen Turner), and her brother Michael (Shiloh Strong) return home to North Carolina, Sally begins to retreat into autism. She first stares silently at the night sky. Then she shrieks when Ruth wears a baseball cap the wrong way. Finally she develops the habit of scaling the roof of the house and other tall structures. This makes Ruth realize that there is something seriously wrong, and she takes her to see Dr. Jacob Beerlander, a psychiatrist who is an expert in autism. As Sally retreats more and more into herself, Beerlander and Ruth clash over the scientific approach versus the intuition of a mother.
Critic Reviews for House of Cards
Audience Reviews for House of Cards
I like this movie on a multitude of levels. Mainly I love Kathleen Turner in one of here best roles ever. She plays a talented architect and single mother tying to balance her passion for her work with her passion for her daughter and son and the loss of her husband. Her husband studied Maya tribes in South America and had accidentally died while investigating these tribes. She has a teenage son and a 5 year daughter. Her daughter at five is exceptional. Speaks several languages and shows other signs of brilliance and traveled with her father when not in school. The daughter is the focus of the story. Kathleen internalizes here own feeling about the loss of her husband and is not able to supply the need closure and support for her daughter who takes after her late husband. Her daughter becomes increasingly distant at school and eventually enters near catatonic state. The school calls in Tommy Lee Jones the school districts Social worker/psychologist. After his initial assessment he diagnoses her as autistic and Kathleen disagrees. Jones threatens to remove her into protective custody. Its nice to see Jones as something not related to law enforcement. Anymore plot would be a spoiler, suffice to say some people take exceptionally long paths to reach the short distance and effort to bridge the distance between two hearts. Seen it ten plus times and its still good for a good cry. Sorry to the people who thought this movie had anything to do with Autism. I've done volunteer work with autistic children and this movie has nothing even vaguely to do with autism. In addition, it is amazing how good of a movie can be made with minimal production costs
Bill Cavros
Super Reviewer
Leigh Ryan
Super Reviewer
House of Cards Quotes
There are no approved quotes yet for this movie.