House of D
(2004)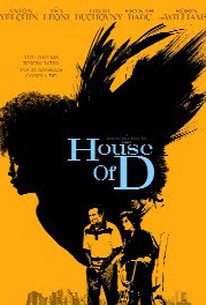 Movie Info
Actor David Duchovny made his debut as a director and screenwriter with this coming-of-age drama, in which a grown man looks back at his adolescence. It's 1973, and Tommy (Anton Yelchin) is a 13-year-old boy living in New York's Greenwich Village with his mother (Téa Leoni), who is still coming to terms with the death of her husband. Tommy's best friend is Pappass (Robin Williams), a mentally challenged man who is in his thirties, but is at the same emotional age as Tommy; Pappass delivers meat for a local butcher, and Tommy helps him out. Tommy has discovered women, and has a crush on Melissa (Zelda Williams), a cute girl in his class, but Pappass isn't much interested in the opposite sex, and can offer little advice on the subject. Tommy's lone confidante on this issue is Lady Bernadette (Erykah Badu), a woman locked up in the nearby Women's House of Detention who offers advice shouted from her window. When Pappass begins to realize that Tommy is falling for Melissa, he's convinced he's losing his best friend, and in a moment of anger he steals a bicycle. Tommy tries to protect Pappas by claiming he was the thief, leading to a series of serious repercussions. Years later, Tommy (now played by Duchovny) is a grown man who leaves his home in Paris, France, to pay a visit to the old neighborhood and come to terms with the life he left behind.
News & Interviews for House of D
Critic Reviews for House of D
Audience Reviews for House of D
A awesome film. When I first picked up this film from a pawnshop I put it on my watch someday stack. Well a few weeks ago it came to the top of the pile and I still put watching this movie off. Boy am I sorry. David Duchovny score big on his first attempt to write a movie. The story really hit home. Pretty much David who plays Tom Warshaw, tells his story of when he turned 13. Nothing can be said about the cast that would do it justice. Anton Yelchin who played Tommy did a stellar performance. Erykah Badu who played Lady was a true life character. And of course Robin Williams fits the role of a mentally handicap person not a hard role for him to play. What amazed me was The Title House of D, and The Writer David Duchovny having the initials DD. 5 stars no less.
Bruce Bruce
Super Reviewer
Very heartfelt, realistic movie. I just fell in love with the character of the little boy. All the characters were memorable. I just don't really see the main point that ties the whole thing together though. I think maybe I'm missing something. If a movie can make you laugh out loud and get choked up, it deserves at least three stars. Bravo!
Dannielle Albert
Super Reviewer
Sunil Jawahir
Super Reviewer
House of D Quotes
| | |
| --- | --- |
| Reverend Duncan: | WHAT COLOR GREEN IS THAT? |
| Reverend Duncan: | What color green is that? |
| Tommy: | AL GREEN |
| Tommy: | AL GREEN. |
| Tommy: | Al Green. |