Lisa And The Devil (Lisa e il diavolo) (The Devil in the House of Exorcism)
(1973)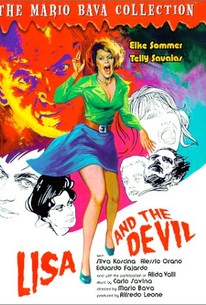 Movie Info
After being dissatisfied with Mario Bava]'s original cut of {$Lisa and the Devil, producer Alfredo Leone decided to capitalize on the continued popularity of The Exorcist and inserted a handful of exorcism scenes (shot with the assistance of Bava) into the film and releasing it under the title, House of Exorcism. Innocent, voluptuous Lisa (Elke Sommer) begins her travails when she keeps on encountering a sinister fellow (Telly Savalas), carrying around a mannequin of a man she has killed. Unfortunately for her, she ends up hiding in the mansion of a psycho family where death looms overhead. All of this is intercut with an exorcism story starring Robert Alda as a priest who is trying to help a now-possessed Lisa regain her grip on reality. ~ Sandra Brennan, Rovi
Critic Reviews for Lisa And The Devil (Lisa e il diavolo) (The Devil in the House of Exorcism)
Audience Reviews for Lisa And The Devil (Lisa e il diavolo) (The Devil in the House of Exorcism)
A tourist finds herself staying overnight at a Spanish villa managed by a butler who is the spitting image of Satan as pictured on a local fresco. Builds to a perverse and spooky third act as the shameful secrets of the chateau are slowly brought to light, but the first two thirds of the movie are slow and often confusing. Not to be confused with the re-edited American version HOUSE OF EXORCISM, which is reportedly much worse.
½
I won't sit here and pretend that Lisa and the Devil made a whole lot of sense as a story, even with the so-called "superior" version of the film. It often sends you in different directions and you can never quite get a firm foothold as you're watching it. I can sort of see what Mario Bava was going for here, but unfortunately the actors he picked just aren't that interesting. The only one of note is Alida Valli, who is always mesmerizing when she's on-screen. Even Elke Sommer is usesless here. I can see why genre fans appreciate it, but I can also see why American distributors wanted to cut it up and try something different with it. I haven't seen the "House of Exorcism" cut, and I'm told it's awful, but it makes sense to me having seen the film why they felt the need to do that. I have a feeling that neither version of the film is really that good, but since it has Mario Bava's stamp on it and that he never saw the original cut released in the U.S. when he was alive, it's definitely worth checking out. Just don't expect to be wowed or anything.
Tim Salmons
Super Reviewer
Was able to see the actual "Lisa & The Devil" version of the film. I found that amongst the horribly cheesy costumes (Elke excluded) and over dramatic acting...there were some really amazing (and at times BIZZARE) visuals. I felt like it would have been more effective had it been about 30 minutes shorter. More substantial then a "pure cheese" film, but not great by any means. Though I think the bulk of my Flixster friends will appreciate it for what it is.
Lisa And The Devil (Lisa e il diavolo) (The Devil in the House of Exorcism) Quotes
There are no approved quotes yet for this movie.