House of Flying Daggers
(2004)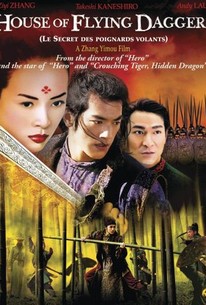 House of Flying Daggers Videos
House of Flying Daggers Photos
Movie Info
Chinese director Zhang Yimou fuses a martial arts action-drama with a tragic romance in this elegant period piece. In the year 859 A.D., as the Tang dynasty is beset by rebellion, Leo (Andy Lau) and Jin (Takeshi Kaneshiro) are a pair of lawmen who have been given the task of ferreting out the leaders of a revolutionary faction known as the Flying Daggers. Working on a tip that members of the group are working out of a brothel called the Peony Pavilion, Jin arrives there in disguise and is introduced to a beautiful blind dancer named Mei (Zhang Ziyi). After watching Mei's performance following several drinks, Jin drunkenly attempts to have his way with her, and Leo is forced to intervene. After gaining Mei's trust in a game of skill, Leo arrests her and informs her that she'll be tortured if she doesn't tell all she knows about the Flying Daggers. Jin responds by helping Mei break out of prison, but he has an ulterior motive -- by following her, Leo and Jin are certain she'll lead them to the Flying Daggers. However, as he helps the blind girl find her way back home, Jin finds himself falling in love with Mei, and isn't certain if he's willing to betray her again. ~ Mark Deming, Rovi
Critic Reviews for House of Flying Daggers
Audience Reviews for House of Flying Daggers
A provincial guardsman goes undercover and breaks a blind swordswoman out of prison to discover the location of a secret society of rebellious assassins. Zhang Yimou's follow up to Hero is a similarly stunning combination of artistic visuals and beautifully choreographed martial arts, but this time he throws an epic story of unrequited love into the mix. The story's format is another favourite of Chinese cinema, that of the undercover cop with divided loyalties, but blended with mythical fantasy and star crossed lovers it plays out almost like The Departed crossed with Romeo And Juliet. This makes for a more complex character dynamic than that of Hero and therefore a more engaging story, although it does suffer similarly to the previous film in that it can feel like the plot is just a series of excuses for yet another visually glorious set piece. For that reason Zhang is probably once again guilty of style over substance, but what style it is. Addendum: I cannot recommend the Blu Ray release as the picture quality is little better than the DVD, which is a real shame considering the sheer visual beauty of the film.
[img]http://images.rottentomatoes.com/images/user/icons/icon14.gif[/img]
Directors Cat
Super Reviewer
½
House Of Flying Daggers is an exquisite and pleasant barrage of colors, music, martial arts, history, and culture underlined by romance and mystery. Creative fight choreography. Splendid photography. Artful cinematography.
Jan Marc Macababayao
Super Reviewer
House of Flying Daggers Quotes