House of Games
(1987)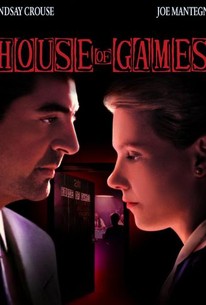 Movie Info
Playwright David Mamet's directorial debut House of Games is a tense psychological thriller about a uptight psychiatrist (Lindsay Crouse) who falls prey to a smooth-talking con-man (Joe Mantegna), and then proceeds to turn the tables on him.
Critic Reviews for House of Games
Audience Reviews for House of Games
Cheesy, dated and more of a film made for tv, yet, there was something quite interesting about this film, that left me enjoying it.
Lady D'arbanville
Super Reviewer
½
Lindsay Crouse is an eminent psychologist who is desperate for adventure. One day she'll meet Joe Mantegna's character, a swindler that will provide her a few tricks to reach a little excitement in her life. There will be, of course, a few bumps on their way. A tight and thoughtful writing and direction along with Juan Ruiz Anchia's stylish photographic work, construct a rich and atmospheric hitchcockian tour de force with no room for gratuitousness, not even in Mamet's notorious use of coarse words. David Mamet's first and easily best film.
Pierluigi Puccini
Super Reviewer
Okay, so could Lindsay Crouse be any more awful? I know pretty much everyone hates her in this movie but Jesus Christ, that was a dull performance. I don't know if she was attempting sociopathy by way of emotional stunting, but what she really accomplished was sheer tedium. Joe Mantegna wasn't too much better, playing some unctuous cipher for the real star of the movie - the con. Mamet's a pretty damn good writer, lack of range and self-indulgent style notwithstanding, and here he has developed a screenplay that starts out riveting but becomes predictable and floppy. I had the entire half hour of the movie mapped out before it even started; how's that for a disappointing ending? I think we can blame Lindsay Crouse for that too. God, she was bad. But yeah, the first and most of the second act are this great psychological clash between a woman and a man, both of whom make their living working out the human brain in very different ways. The cons themselves are a lot of fun to watch...just not that last one because you know what's coming. I don't know if it's a product of the movie's age or just straight-out simplicity, but it was a bust. Not a bad movie per se, but the payoff was a mess.
Drew Smith
Super Reviewer
House of Games Quotes
There are no approved quotes yet for this movie.