House of Numbers
(2009)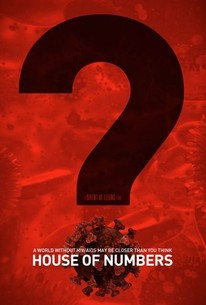 AUDIENCE SCORE
Critic Consensus: No consensus yet.
Movie Info
Canadian filmmaker Brent Leung embarks on a global mission to discover why HIV/AIDS is still as much a mystery today as it was when it first made headlines in the early '80s. In his quest to define the deadly autoimmune disorder and find out what steps are being taken to cure it, Leung speaks with survivors, activists, Nobel laureates, presidential advisers, the executive director of UNAIDS, and even the two researchers crediting with discovering HIV. As the story of HIV/AIDS continues to develop and evolve, conventional wisdom regarding it proves ever more elusive and uncertain. In this film, the key players in the battle against HIV/AIDS share their own wisdom in their own words, proving once and for all how little we truly know about this devastating epidemic.
Critic Reviews for House of Numbers
All Critics (3) | Top Critics (2) | Fresh (0) | Rotten (3)
Trafficking in irresponsible inferences and unsupported conclusions, the filmmaker Brent Leung offers himself as suave docent through a globe-trotting pseudo-investigation that should raise the hackles of anyone with even a glancing knowledge of the basic
September 4, 2009 | Rating: 1/5

A vital yet thorny approach whose inconclusiveness is bound to sadden or infuriate anyone who's lost a loved one to AIDS.

By the end of the film you'll likely be more confused about HIV/AIDS than ever, and that's just the way Leung wants it.
Audience Reviews for House of Numbers
Whilst I am by no means stupid (nor is the target audience and most viewers of this film) but all I got from this film is that no one can decide what HIV/AIDS really is and you're in big trouble if you ever do suspect infection! I have studied HIV/AIDS so I knew a bit about it when I went in but now I have come out with less knowledge than before. Maybe it was the directors point to do this however I found it incredibly useless and a waste of time. If you're going to make a documentary about something like this then at least try and give the best information possible. If you can't find the best information, then make a short telling this not a whole film. Would NOT recommend.
Sophie Burgess
Super Reviewer
It was a mess. I was more confused about AIDS/HIV after I watched the film. I wish the director would have been more objective, it felt from the start that he already had his mind set on how he was going to "set everything up". I am not a scientist or a doctor, I have no way to confirm or deny what is being said on film. For all I know it could all be lies, or it could be truth. This overall just felt like on of those you tube conspiracy films that have twenty ten minute parts. Plus the director put himself in front of the camera and he just looks awkward. I do think that certain things can be true, everything dealing with medicine and money are mostly scams. The companies that make the drugs(medicine) like people top be sick, because if you are not sick, you won't need medicine. It was interesting, but then again I do watch those ten minute, twenty part you tube films about conspiracies. Everything in this film should be taken with a grain of salt
Marion Ravenwood
Super Reviewer
House of Numbers Quotes
There are no approved quotes yet for this movie.