House of Sand and Fog
(2003)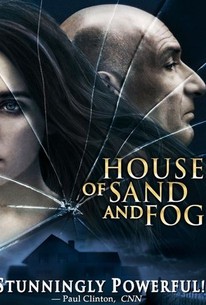 House of Sand and Fog Photos
Movie Info
Massoud Amir Behrani is living a lie to fulfill a dream. Once a member of the Shah of Iran's elite inner circle, he has brought his family to America to build a new life. Despite a pretense of continued affluence, he is barely making ends meet until he sees his opportunity in the auction of a house being sold for back taxes. It is a terrible mistake. Through a bureaucratic snafu, the house had been improperly seized from its rightful owner, Kathy Lazaro, a self-destructive alcoholic. The loss of her home tears away Kathy's last hope of a stable life--a life that had been nearly destroyed by addiction--and Kathy decides to fight to recover her home at any cost. Her struggle is joined by deputy sheriff Lester Burdon, who tries to take the law into his own hands to help Kathy. Ultimately the tale, itself, explores what happens when the American Dream goes terribly awry.
Critic Reviews for House of Sand and Fog
Audience Reviews for House of Sand and Fog
"I have taken us so far off our course, but now it is time to return. It is time for us to go home to our destiny." There are no good or bad characters in House of Sand and Fog. Just a lot of flawed individuals who seem to unintentionally make matters worse at every turn. This isn't a feel-good movie, to say the least. The story is about a conflict over a house that is very important to several different people. The woman that it originally belongs to is wrongfully evicted from it, and it ends up being sold to an exiled Iranian man who needs the house as part of a plan to provide for his family. An unimaginable amount of conflict and tragedy ends up resulting from this unfortunate situation. I'm an avowed fan of these kinds of dour dramas. House of Sand and Fog has all the emotional power of a movie like Revolutionary Road or Little Children, without the heavy-handed preachiness of Crash. This movie isn't trying to teach you anything or tug on your heartstrings, it's just a well-told story about tragedy. Combine that with solid writing, a good score, and a great cast (lead by Jennifer Connelly and Ben Kingsley), and you have a movie that is a fine example of the drama genre.
½
An extremely powerful film. Kingsley gives a performance that should be up with the bests of all-time, where Connelly, strikingly beautiful, gives an Oscar-worth one as well. A deep story that is rich in characterization as well as with things such as material possessions and how much we place value in them. A heck of a depressing story with people who are extremely troubled and have very few redeeming qualities, but in the end it really makes you take a strong look on how much you place value on items, such as a simple house, and the effects these possessions can have on your life.
Dan Schultz
Super Reviewer
½
Solemn and well-directed drama, about a family who gets in bitter conflict with the previous owner of their newly bought house. The first half is pretty slow, but it builds up tension well for what happens in the second, where things really shift into high gear. One thing I really appreciated about the film, was the fact that it was very hard to predict the final outcome of the plot. That, along with its superb acting and refined script, makes it into an above-average drama, and one I'd gladly recommend. Be aware though that it's very tragic in tone. So if you're looking for something cheerful with a happy end, you may want to look elsewhere.
House of Sand and Fog Quotes
There are no approved quotes yet for this movie.