House of Strangers
(1949)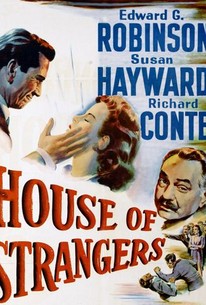 House of Strangers Photos
Movie Info
In this film, Edward G. Robinson plays an Italian-American banker who runs roughshod over his four grown sons. When the ruthless Robinson is arrested for illegal business practices, three of his sons attempt to take over the business. Only son Richard Conte remains loyal to his father.
Critic Reviews for House of Strangers
Audience Reviews for House of Strangers
½
This is a drama about an Italian-American family centered on the complex dynamics within the family, especially the relationships between the ambitious, domineering father and the sons. Sound familiar? I'd never heard of this film, buying it because it's a Fox Film Noir, but surprisingly enjoyed it immensely. Why this film's banker Monetti family even earns the scorn of the government, which seeks to crush it as in Godfather II. This conflict between love and revenge will satisfy any Godfather fan. The story and acting are powerful, and while Edward G. Robinson's performance didn't receive the acclaim of Brando's, he did win Best Actor at Cannes for the performance. Richard Conte shines equally as favored-son Max, loyal to his father and sworn to revenge against his brothers, and Susan Hayward eclipses Diane Keaton as the son's love interest who just wants to get away. For those interested in Richard Conte's career or just movie trivia, he appears as Don Barzini, rival to Don Corleone in "The Godfather." Also, he must have been in the Rat Pack or at least been a friend of Sinatra's because he appears not only in this quintessential "Ocean's 11," but also in the Chairman of the Board's "Tony Rome" and "Lady in Cement." Director Joseph L. Mankiewicz's films are uniformly excellent, with House of Strangers no exception. If you're a fan of either the Godfather saga or any Martin Scorsese/Robert Deniro films such as Goodfellas, check this one out.
Clintus Maximus
Super Reviewer
House of Strangers Quotes
There are no approved quotes yet for this movie.