The House of Yes
(1997)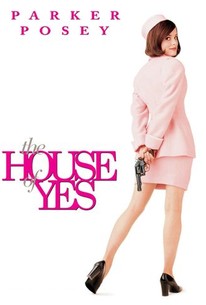 Movie Info
This offbeat comedy is an adaptation of Wendy MacLeod's play about the affluent, dysfunctional Pascal family as they prepare for a Thanksgiving dinner. The mentally disturbed daughter (Parker Posey), who identifies with Jacqueline Kennedy Onassis, has been involved in an incestuous relationship with her twin brother Marty (Josh Hamilton) for years. But now Marty is bringing his fiancee Lesley (Tori Spelling) home for the holidays to meet his family, including his sister, his twisted mother (Genevieve Bujold), and his younger brother (Freddie Prinze Jr.). After the electricity goes out, tensions escalate. Parker Posey won the 1997 Sundance Film Festival Special Jury Award.
Critic Reviews for The House of Yes
Audience Reviews for The House of Yes
½
"The House of Yes" is a little gem of an indie film, which alternates between crass satire and dark comedy with seeming ease. The set-up of the film has us transported to a family manor on the outskirts of Washington D.C. where Jackie-O, her brother Anthony, and their mother await the arrival of Jackie's twin, Marty, and his fiancee, Lesly. These WASPs turn out to be some of the sickest people around, as they hide secrets, manipulate each other, incite violence, and revel in their insanity. Jackie-O especially has problems coping with her brother's relationship, and her jealousy is evident from their very first meeting. Though the plot of this film is nearly nonexistent at times, it's the characters that we really care about, or more aptly, whether or not Jackie-O will manipulate and seduce her brother like she once has before. This film is quite dark, but also quite inspired. It's uncomfortably funny, in the darkest possible terms, and features some great performances, especially Parker Posey, Queen of Indies. A must see for nineties indie junkies, and Parker Posey's minions.
Spencer S.
Super Reviewer
½
It's scary how believably Marty (and the viewer) gets sucked into the hermetically loving vacuum of family.
Letitia Lew
Super Reviewer
½
This film didn't do much for me. A brother comes home with his finance to meet his family, a sister who thinks she is Jackie Kennedy and is in love (More then Brother Sister type love) with her brother, flips out and tries to do away with the fiancée. Its from the 1997 Toronto International Film Festival. One of the few not so good movies from this festival, but you might find it enjoyable and funny. Me well I can only muster up 2 1/2 stars.
Bruce Bruce
Super Reviewer
The House of Yes Quotes
| | |
| --- | --- |
| Jackie-O: | I watch soap operas. I bake brownies. Normalcy is coursing through my veins. |
| | |
| --- | --- |
| Lesly: | I can't talk that way about your brother. |
| Jackie-O: | Pretend he is not my brother, I do. |