The House That Dripped Blood
(1971)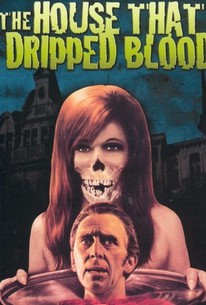 The House That Dripped Blood Photos
Movie Info
This anthology picture about a bad-luck mansion is a thriller with four episodes--all framed by a police investigation. A review of the files of the local policeman (John Bennett) shows that everyone who has owned the mansion has died in a horrible fashion. In the first episode, "Method for Murder," the obsessions of a mystery writer (Denholm Elliott) provide his wife with an opportunity to do him in. In the second, "Waxworks," Peter Cushing is the unhappy recipient of the attentions of a jealous husband. The third, "Sweets to the Sweet," has Christopher Lee fall victim to his charming little daughter, who plays with voodoo dolls. In "The Cloak," Jon Pertwee (best known for his TV portrayal of Dr. Who) is a horror-film star who insists on authenticity in his costumes. Somehow, he is given the cloak of a real vampire, with humorously ghoulish results.
News & Interviews for The House That Dripped Blood
Critic Reviews for The House That Dripped Blood
Audience Reviews for The House That Dripped Blood
½
I don't really like the title of this movie seeing as its not really accurate and sounds kinda daft. The house is the centre point of the movie as its where everything happens, hence the dripping blood part. But the movie is relatively tame with little to no blood, hardly dripping. To top that one of the stories doesn't even take place within the house. I prefer the original title of 'Death and the Maiden'. The premise here is very simple (and much the same as all other anthology movies). The main plot bookends four individual little tales which all fit into or make up the main plot. In this case police Inspector Holloway (John Bennett) is on a case to investigate the disappearance of a famous movie star. The Inspector is pointed in the direction of an old house where the movie star was last seen. Upon meeting with the local estate agent the Inspector is told all about the previous tenants leading up to the movie star. The first story is about a horror writer (Denholm Elliot) moving into the house with his wife, mainly to help his creative writing. The writer soon finds himself haunted by the very character he created within his current book, or does he? Its this first story that introduces us to the creepy old house and bottom line, its perfect. Both the exterior and interior are exactly what you might think of when it comes to an old creaking British spook house. There are gargoyles on the buildings exterior, old fashioned stained glass windows, and much of the interior is solid wood paneling with all the gothic/Victorian style trimmings you might expect to see in a period house. Its these visuals which help this initial story greatly because to be frank its pretty weak. Sure it offers a nice twist on twist at the end but the makeup on the murderous villain is laughable which [b]really[/b] doesn't help. Up next we see Peter Cushing as a retired stock broker moving into the old house merely to spend his days relaxing and enjoying life. One day he wanders off down to the high street (of an unknown location) and stumbles across a horror waxworks. Curious he ventures inside and eventually comes across a mysterious female figure that seems to bewitch him. Later an old friend (Joss Ackland) visits who also ends up going to the waxworks and also becomes bewitched. This little tale is also pretty weak in my opinion as it offers no real explanation for anything. We don't find out anything about Cushing's character of his friend (Ackland) other than they are old friends who seemingly fell for the same woman and both lost her. The wax figure reminds both of them of said woman whilst at the same time seemingly hypnotising them. Of course the wax figure turns out to actually be the woman they both loved, the owner of the waxworks killed and mummified her in wax cos he fancied her too (its a small world). Naturally all this is a bit silly because of course you'd never be able to conceal a body like that for obvious decomposition issues. And the fact the waxwork owner then displays the heads of both men (yup he kills them both) in his display kinda seems like shooting yourself in the foot really doesn't it (I think people would notice). I think we are led to believe this guy does this a lot to various people...because they fall in love with the wax mummified dead body of this woman? If you say so. The third story is easily the best and surrounds a little girl called Jane (Chloe Franks), her father (Christopher Lee), and the hired nanny (Nyree Dawn Porter). Hired help Ann is concerned with the cold attitude John Reid has towards his daughter. He's not physically abusive, just cold and heartless, he doesn't seem to love her; he also speaks badly of his late wife. Of course little Jane is not your average little girl, she's a witch, as was her mother. This segment is not exactly original or particularly hard to fathom but its certainly the most eerie and more cinematic of the stories. You could easily have seen this being made into a full length movie as the whole demonic child angle is a popular one. Little Chloe is highly adorable throughout which makes it even more chilling because you struggle to think how she could ever be evil. Lee is doing his usual stoic faced thing and comes across very well as a stern father, whilst Porter is very good as the confused nanny. This story works on many levels but mainly because it made me wanna know more about what happened before with the mother and what happened going forward with Jane. The last segment surrounds a flamboyant and arrogant actor (Jon Pertwee) who moves into the old house whilst filming his latest horror movie. Not happy with the current state of the movie and his costume he goes to an old mysterious antique shop which sells various creepy artifacts and knick-knacks. There he picks up a black cloak for his latest vampiric role. Everything is fine and normal until he realises the cloak actually gives him real vampiric powers when he puts it on. This by far the most goofy and more comedic of the four short stories. You can see how this could well have influenced many silly 80's horror comedies with its ideas and visuals. The highlight is easily Pertwee who really enjoys himself hamming it up with all manner of rubbery facial expressions and over the top vampire hijinks. Lets not forget about the owner of the old spooky shop played by Geoffrey Bayldon who fights Pertwee all the way with his own over the top goofiness. This doesn't really offer anything you haven't seen before. By today's standards its a pretty stereotypical vampire offering on all fronts, but its that good old fashioned quirky charm that grabs you. On the whole this is most definitely one of the most iconic anthology films I've seen. Its well known, the title is outrageously and hilariously overblown, and of course the cast is stellar. I wouldn't say its one of the best anthologies though, its split down the middle for me. The first story is acceptable, the second is kinda weak, the third is the best, and the fourth is fun in a daft way. On the whole everything looks good with (as said) the house being a great setting for all the tales. The costumes are gorgeous, the acting is solid, and the makeup and effects...well they vary a bit as expected. But for me this movie really seemed to highlight the actors and what they were best known for. Here Cushing looks exactly as you remember him, as you'll always picture him. Extremely debonair and dapper with the classic red smoking jacket with elegant neck scarf whilst sitting in an old classical hardback chair. On the other hand you then have Christopher Lee marching his lean 6ft plus frame around with widows peak combed and perfectly presented. He constantly looks like he's about to lose it and smack someone, of simply bite their neck. As for Pertwee, well here he just comes across as Dr Who in a cape, but that's just fine. So overall I'd say thoroughly recommended if you're into these old horror films. Obviously they won't be everyone's cup of tea with the limited visuals (of the time) and dare I say (admittedly) corny stories. But with things like this its all about the charm of it all really, the quaintness and enchantment if I can use that term. Not the best but definitely enjoyable for a cozy night in when its cold outside.
Phil Hubbs
Super Reviewer
The House That Dripped Blood is a near flawless horror anthology that has a great sense of atmosphere which carries on through each story. The film succeeds on many levels due to its well written script, great acting and brilliant directing. This is a great anthology that has well crafted stories that are truly chilling. Director Peter Duffell direction is confident and he has a clear understanding of what makes an effective horror picture. Horror legends Christopher Lee and Peter Cushing give great performances here, and each story has something special to offer to fans. Of all the anthology films that has graced the horror genre; The House That Dripped Blood remains one of the best and is a classic of the genre. If you're looking for genuinely creepy stories, then this movie will surely provide you with what you're looking for. The film delivers something unique in terms of effective horror, and with a great cast, a wonderful script, this is a stunning anthology that remains a well structured movie that stands out above others in the genre. The film mixes all sorts of elements and works well in being a memorable film that stands out among others. This is a brilliant movie that is a must see for anyone looking for four spooky, well constructed stories in one picture. Director Peter Duffell has made a stunning movie that I enjoyed from start to finish. The cast that Duffell work with makes this one quite entertaining and with legends like Christopher Lee and Peter Cushing, this is a winner. If you come across this one, give it a shot, you'll most likely enjoy it.
½
A pretty good anthology horror film with good actors and interesting stories, I especially liked the vampire one. Some stories are better than others, but overall it's a pretty good movie.
The House That Dripped Blood Quotes
| | |
| --- | --- |
| Charles: | That's Dominic. He's the villain in my story. He's a strangler who's escaped an asylum for the criminally insane. He roams the country side at night searching for fresh victims laughing maniacally as he kills them. |
| Alice: | Sometimes I wonder where you get your ideas. |
| Charles: | Looking through the window. That's where I first saw him this morning, after you'd left. |
| Alice: | You saw him? |
| Charles: | Only in my mind's eye. From now on Dominic is my partner in crime. He's going to make us a lot of money. |
| Alice: | Well here's to Dominic. |
| | |
| --- | --- |
| Insp. Holloway: | Sergeant Martin? |
| Police Sergeant Martin: | Yes. |
| Insp. Holloway: | Detective Inspector Holloway. |
| Police Sergeant Martin: | Good afternoon sir. It's quite an honour to have you come all this way down from Scotland Yard |