Houseboat
(1958)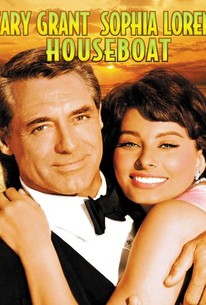 Movie Info
In this film, Cary Grant plays a widowed father who packs himself and his spoiled kiddies off to a ramshackle houseboat. Enter Sophia Loren, who is attempting to break loose from her tyrannical father's iron grip. She hires on as Grant's housekeeper, and the two soon fall in love.
Critic Reviews for Houseboat
Audience Reviews for Houseboat
½
Charming classic romantic comedy about a widower who has to win back his kids' hearts while living on a house boat and dealing with an unusual maid. Everything about this film feels dated, the green screen, camera work. That's not a bad thing, though, because it fits the movie perfectly and makes it such a nostalgic trip back to a time when rom coms still were charming and innocent without fart jokes. Cary Grant is of course a great leading man and Sophia Loren a cheeky counterpart. A sweet and lovable film you can still watch to have a good time, even after all those years.
This is a cute and fun little romantic movie with two great stars, and I enjoyed it.
½
Cute entertaining flick from Cary Grant. Not one of his best, but I could spend two hours watching Cary Grant take out his trash. This time around he's a divorced man taking in his three young kids after their mother dies in a car accident. He hasn't been much of a father up until now, so he's having to spend a little while getting the kids to like him again. When the youngest boy wanders off during a concert and is found by Sophia Loren, she takes him back to Grant's apartment and the kids beg him to hire her as their maid. Through a series of events, the family ends up living on a houseboat. In the meantime....well, you can guess what happens from here. Cary and Sophia scratch and claw at each other first, but then instead of fur, sparks fly. Grant is gorgeous, Sophia is gorgeous, and the whole film is a fun little romp suitable for the whole family. And unlike 90% of the romcoms, this one didn't make me nauseous. Good job.
Houseboat Quotes
There are no approved quotes yet for this movie.