Housekeeping
(1987)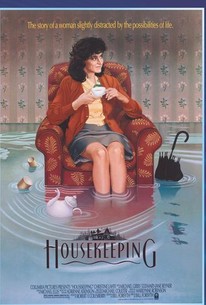 Movie Info
Housekeeping is the film in which Christine Lahti invites a guest into a living room half-submerged in water. This is hardly the oddest moment in this offbeat Bill Forsyth film (his first American production). When their mother commits suicide by driving into a lake, Idaho pre-teens Ruth Sara Walker and Lucille (Andrea Burchill) fall into the custody of their Aunt Sylvie (Lahti). This strange young woman has throughout her life made unconventionality a life form. The girls initially aren't sure what to make of their loopy guardian, but in time begin to respond differently to her. When Lucille distances herself from Sylvie's eccentricities and then moves in with a local family, Walker draws closer to the older woman. The two head out on a series of picaresque adventures together, that include stealing a rowboat and riding in boxcars, but Lucille catches wind of this and informs the authorities - who promptly threaten to revoke Sylvie's custody of Ruth. By then, however, Ruth has already begun to closely identify with Sylvie. Director Forsyth adapted his script from a novel by Marilynne Robinson.
Critic Reviews for Housekeeping
Audience Reviews for Housekeeping
"And there was an end to housekeeping." (Sorry. I just love that quote.) There are rare films that I like to watch over and over again which has happened increasingly less as time goes on. Of those, three films by Bill Forsyth are prime examples that combine high quality with unmatched enjoyment. They are "Gregory's Girl," "Local Hero" and "Houskeeping" which form an informal trilogy containing characters who feel out of place. I saw "Housekeeping" for the first time in a long time in New York City last night and recall having seen it on campus shortly after it came out. And I loved it then, and love it now, especially Bill Forsyth's perfectly unassuming direction, classic dialogue and gorgeous cinematography. Basically, it is about two sisters, Ruth(Sara Walker) and Lucille(Andrea Burchill) who are left with their grandmother(Georgie Collins) in Fingerbone shortly before their mother(Margot Pinvidic) drives into a lake. The grandmother's death brings in two elderly aunts(Anne Pitoniak & Barbara Reese) who in turn contact the mother's vagabond sister Sylvie(Christine Lahti) before departing suddenly, leaving her more or less in charge. One of my prime memories of "Housekeeping" is the scene where Sylvie breaks out in laughter at an advertisement for vacuum cleaners that perfectly expresses the domesticity of the 1950's when the movie is set. When I first saw the movie, I thought she is simply rejecting traditional roles. Watching it now, I picked up on some additional dialogue which not only gives new meaning to that scene but also hints at Sylvie's dark past which she will not speak to her nieces about when they are desperately looking for information about their mother. This is important since Sylvie's relationship to her sister reflects on the present relationship between Ruth and Lucille. It also gives a deeper impression that she had some more experience in a home than otherwise indicated and explains her ambivalence towards household chores, preferring the freedom of the open road, as she takes life in stride, where the unknown is preferable to the known. In the moment, she stays longer than normal in a small town, where rules can be bent but not broken, that tolerates her eccentricity up to a point and is still haunted by a disastrous train crash decades before.
Housekeeping Quotes
| | |
| --- | --- |
| Ruth: | "There's a man yelling at us," says a worried Ruth. |
| Ruth: | There's a man yelling at us. |
| Sylvie: | "Oh, I know," says Aunt Sylvie. |
| Sylvie: | Oh, I know. |