Housesitter
(1992)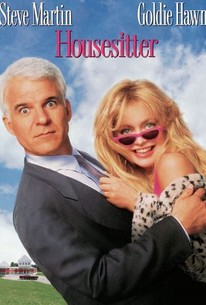 Movie Info
Housesitter is a lightweight comedy about an architect (Steve Martin) who builds a dream house for his girlfriend (Dana Delany), who rejects him right after the house is completed. In despair, he has a one-night stand with a woman (Goldie Hawn). Several weeks later, he returns to his house to find that the woman has moved in, furnished the entire house, and has told his friends and family that she is his wife.
Critic Reviews for Housesitter
Audience Reviews for Housesitter
½
Newton Davis: Wow! You're a genius. You're like the Ernest Hemingway of bullshit. "She came. She saw. She moved in." Housesitter is a completely underrated film in my opinion. It's a movie built upon lies and that relies on its leads, Steve Martin and Goldie Hawn too much, but it is a really fun time. I enjoyed every second of this film even as I felt the signs of a film that out stayed its welcomed slightly. As with a lot of Frank Oz's films, it's a small film that builds off of one idea and just keeps multiplying. The films concept was simple and fun in my opinion, and it all worked so well, even if it shouldn't have. The movie begins when we see Davis propose to his longtime girlfriend by showing her the house he designed and built for them. However she says no. Fast forward three months, and Davis has a one night stand with a waitress(Gwen), to whom he tells about the home. Well con artist Gwen goes to the house and moves in, telling the people of the small town that she is Davis's new wife. When Davis finds out, he goes along with it as he sees that all her lying could actually benefit him. The movie had a strong appeal to me. I loved Steve Martin and Goldie Hawn(who I normally don't) in their respected roles. They worked extremely well off of each other and they made the simple premise work smoothly. I also liked the twists of the lies as the film went on.  This isn't a movie that's going to amaze you. It isn't a great movie, and I can admit that. That being said, I really did like it and believe it is really underrated. It's funny, it features two good comedic performances, and the premise leads to some pretty great situations. It isn't a new favorite of mine, but it is one I'd love to see again at some point.
Melvin White
Super Reviewer
The first time that I saw, was very bad, but after Housesitter become a likable film with a unique duo.
Lucas Martins
Super Reviewer
½
I love Steve Martin and Goldie Hawn, I think I always say that, but I loved the cast. Anyway, this movie so so cute, so funny, so charming and a bit romantic. It's just entertaining from start to finish.
Alexis Nomm
Super Reviewer
Housesitter Quotes
There are no approved quotes yet for this movie.