How About You
(2008)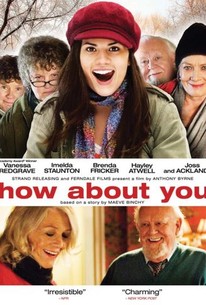 TOMATOMETER
AUDIENCE SCORE
Critic Consensus: Though it relies on a cliched storyline and stock characters, How About You gets winning performances from Vanessa Redgrave and Imelda Staunton.
Movie Info
Ellie is left in charge of an elderly residential home, and while most of the residents have left to spend Christmas with their families, four residents known as 'The Hard Core' remain. The Hard Core have become impossible to live with. In fact, their rude and objectionable behavior is so terrible that the home faces closure as potential new residents are put off by the Hard Core's appalling antics. Ellie would appear to be no match for them, but when she is pushed to the very limits she decides to take them on. She succeeds in beating them at their own game and manages to show them the error of their ways. But Ellie soon realizes that the Hard Core have changed her too in quite an unexpected way.
Critic Reviews for How About You
Audience Reviews for How About You
½
Cast: Joss Ackland, Hayley Atwell, Orla Brady, Brenda Fricker, Elizabeth Moynihan, Joan O'Hara, Vanessa Redgrave, Imelda Staunton Director: Anthony Byrne Summary: When the manager of a retirement home in the Irish countryside asks her younger sister, Ellie (Hayley Atwell), to run the facility during the holidays, four mischievous residents take advantage of the power vacuum and turn the place upside down. As Ellie learns to take charge, the residents also come to terms with their own troubles. My Thoughts: "I found it to be a charming, quirky, funny little dramedy. Loved the characters and their interactions with each other. It's well acted with some great aged actors. I love old people, especially when their feisty and quirky like this bunch. But near the end it gets very sentimental which was very sweet to watch as they come together and unite as a family. It was a great little film to help pass the time."
♥˩ƳИИ ƜѲѲƉƧ♥
Super Reviewer
Crazy whirlwind but I still liked it...
Leigh Ryan
Super Reviewer
½
very cliche and the "message" just about hits you over the head - but there are moments of pure joy; as when the 4 oldsters toddle to the picture window to see their young "keeper" tell off her jerk boyfriend. There is certainly no new ground broken here, and the last third lays it on a bit too thick, but just watching Redgrave channeling Peter O'Toole is amazing - every nuance and twinkle in her eye was EXACTLY what was called for. Just watching a true master makes this film a worthwhile watch. But there is more - a beautiful scene that seems to come right out of a Maxfield Parrish print - very 3d, with overhanging trees framing a gently rolling river - to which a dying "inmate" gets wheeled by our heroine. A wonderful line comes just before this, when the dying woman asks to see the river one more time before she passes; she complains that the in house nurse won't let her go for she'll "catch her death". She smiles wanly and says "I think it's death that's catching me". The final analysis is that this is tried and true story, but by managing to stay within itself for the most part, the humanity comes through easily - that and watching Redgrave weave her spell - makes you want to hoist a gin martini in her honor.
paul sandberg
Super Reviewer
How About You Quotes
There are no approved quotes yet for this movie.