How Do You Know
(2010)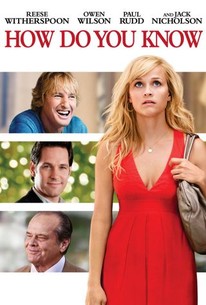 TOMATOMETER
AUDIENCE SCORE
Critic Consensus: How Do You Know boasts a quartet of likeable leads -- and they deserve better than this glib, overlong misfire from writer/director James L. Brooks.
Movie Info
Director James L. Brooks returns to the helm for this ensemble comedy starring Reese Witherspoon, Jack Nicholson, Paul Rudd, and Owen Wilson, which centers on the story of a passionate athlete who finds herself romantically torn between a narcissistic baseball star and a straight-laced businessman. As far back as Lisa (Witherspoon) can remember, her life has been defined by sports. Then, in the blink of an eye, she's cut from the team. With her identity in crisis as she attempts to regain her footing in life, Lisa begins dating Matty (Wilson), a Major League Baseball pitcher and notorious womanizer. Meanwhile, terminally honest businessman George (Rudd) finds himself on the road to financial ruin or worse after being wrongly implicated in a financial crime. As George struggles to clear his name and reconcile his turbulent relationship with his father, Charles (Nicholson), a chance meeting with Lisa at the lowest point in both of their lives leaves him optimistic that things may work out after all. Meanwhile, Lisa and George both realize that the only thing that's certain about the future is that we never know what fate has in store for us. ~ Jason Buchanan, Rovi
News & Interviews for How Do You Know
Critic Reviews for How Do You Know
Audience Reviews for How Do You Know
Rom com with a good cast. Lisa finds herself without a job, moves in with her boyfriend then realises she is attracted someone else.
Candy Rose
Super Reviewer
Hmm, well, based on the talent involved, this had the possibility of being amazing. Considering the reception this film got, I was a little befuddled, but was hoping to be pleasantly surprised. Well, I've seen it now, and....the film is not terrible, just terribly mediocre. The main issues are that the script is just dull, the characters aren't really all that interesting, and everyone just looks bored and uninspired...especially Jack, who pretty much just phones it in and plays himself, but goes by the name of Charles. Also, this film, like many of Brooks's, goes on far too long, but here it's not worth it because the film isn't all that interesting. It's not a complete loss though. Reese and Rudd are actually decent, and I kind of liked their characters, but I couldn't stand Wilson here. He's just too frustrating and a little of his character goes a long way. Plus, there are a few good scenes, but overall, this film just seems all over the place, messy, and in need of some revisions. If you feel you need to see this, then see it, but catch it on tv or something. There are far worse films that are just as sweet and well-meaning, but this one was just really came off all the worse because there's some great people involved.
Chris Weber
Super Reviewer
½
Lisa: Never drink to feel better; drink to feel even better. How Do You Know is the story of Lisa (played wonderfully by the beautiful Reese Witherspoon) who got cut from her professional softball team and confused about her relationship with major league pitcher Matty (played by Owen Wilson in his usual knuckle-head and awkward role) and doesn't quite know what she's doing with her life. Enter corporate executive George (played by Paul Rudd in a surprisingly real and astounding performance), who is being investigated for something along with his father Charles (amazingly played by the legendary Jack Nicholson in another pitch-perfect role). The real scene stealer is Kathryn Hahn, who plays George's loyal, pregnant, and honest secretary Annie in her most hilarious role since 2008's hit comedy Step Brothers, where she played John C. Reily's love interest. Put all of this together, and we now have ourselves a James L. Brooks movie. Read the full review at www.CreedsDelight.com
Matt Goodman
Super Reviewer
How Do You Know Quotes
| | |
| --- | --- |
| Psychiatrist: | Figure out what you want and learn how to get it. |
| | |
| --- | --- |
| George: | This stuff was invented by this man in Central Ohio as white goo ... used to remove soot off wall paper... when gas and electric heating came in there was no longer a need for the cleaning goo the guy was going under ... Joe McVicker, his sister in law was Kay Zufall. So Kay Zufall discovered that her kids liked squeezing the goo a lot more than hard modeling clay so she suggested to her brother in law Joe that they colour the stuff and call it play- doh ... So I have kept this for a long time as proof that we are all just one small adjustment away from making our lives work. |
| | |
| --- | --- |
| George: | We are all just one small adjustment away from making our lives work. |
| | |
| --- | --- |
| Lisa: | Never drink to feel better; drink to feel even better. |