How High
(2001)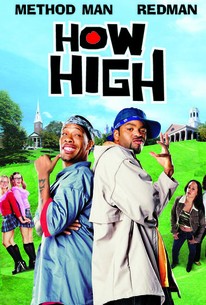 Movie Info
A pair of real-life multi-platinum rap artists star in this genial substance abuse comedy recalling the pro-marijuana work of Cheech and Chong and such films as Half Baked (1998). Silas (Method Man) and Jamal (Redman) are buddies who enjoy smoking voluminous amounts of the illegal plant. They end up in the possession of some magical weed that enhances their brainpower during college entrance exams, thus enabling them to enter that esteemed institution of learning, Harvard University. Once firmly ensconced in the halls of academia, however, the pals run out of their supernatural supply and are forced to get creative in the pursuit of an Ivy League degree. Included in their narcotic-addled plans: smoking the bones of dead president John Quincy Adams. Produced by Danny DeVito's Jersey Films, How High (2001) co-stars Obba Babatunde, Fred Willard, and Hector Elizondo.
Critic Reviews for How High
Audience Reviews for How High
½
It's good because it's that stupid.....if that makes any sense.
Eric Alvarez
Super Reviewer
Aside from the words "ridiculous fun" there's not much else I can really say to describe How High. It's definitely a must for Wu-Tang fans and fans of pot comedy but when you're dealing with a movie about two potheads who get admitted and ace classes at Harvard because of the ghost of their friends who appears whenever they smoke a certain kind of strain of pot you kind of know what you're dealing with. If you're not watching How High under the influence you're definitely doing something wrong...
Michael Gildea
Super Reviewer
How high can you throw me?
How High Quotes
| | |
| --- | --- |
| Jamal King: | If I Study High , Take The Test High , I Get High Score |
| Jamal King: | Yeah. I figure if I study high, take the test high, get high scores! |
| | |
| --- | --- |
| Jamal King: | I figure I study, take the test high, get high scores . |
| | |
| --- | --- |
| Dean Cain: | Word?!? |
| Dean Cain: | Word? |
| | |
| --- | --- |
| Silas P. Silas: | Got blunt? |
| Jamal King: | Got weed? |