How to Eat Your Watermelon in White Company (And Enjoy It)
(2005)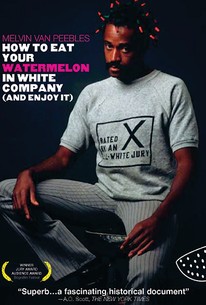 Movie Info
Melvin Van Peebles created a new style of African-American filmmaking in 1971, when on a shoestring budget he made Sweet Sweetback's Baadasssss Song, a violent action picture about a sex-show stud on the run from the police that below the surface served as a call for revolution in the black community. But Sweet Sweetback was hardly Van Peebles' first or only bold achievement in the arts. After brief careers piloting cable cars in San Francisco and flying fighter planes in the Korean War, Van Peebles moved to Paris, where he wrote five novels, became a regular contributor to an anarchist journal, and directed his first feature film, The Story of a Three-Day Pass. On the strength of its critical acclaim, Van Peebles returned to America and made his first (and only) major studio film, Watermelon Man, which helped him gather the money and connections it took to make Sweet Sweetback. Alongside these cinematic triumphs, Van Peebles launched a recording career in the late '60s, making literate but streetwise albums that paved the way for rap and hip-hop, and staged a series of hit Broadway plays including +Don't Play Us Cheap and +Ain't Supposed to Die a Natural Death. In the 1980s, Van Peebles switched careers and became a successful Wall Street options trader, and watched his son Mario Van Peebles become a star. (Mario would also go on to make a film about his dad's adventures making Sweet Sweetback, entitled Baadasssss!) How to Eat Your Watermelon in White Company (and Enjoy It) is a documentary made with Van Peebles' participation that looks back at his multi-faceted career and the brilliant, uncompromising man behind it all. The film includes interviews with a number of Van Peebles' colleagues and admirers, including Spike Lee, Gil Scott-Heron, Gordon Parks, and Elvis Mitchell.
Critic Reviews for How to Eat Your Watermelon in White Company (And Enjoy It)
Audience Reviews for How to Eat Your Watermelon in White Company (And Enjoy It)
Although many know him primarily through his work on film(notably the landmark "Sweet Sweetback's Baadasssss Song"), what the entertaining and illuminating documentary "How to Eat Your Watermelon in White Company(And Enjoy It)"(perhaps the best title ever for a documentary) sets out to prove in fine style is that there is much more to Melvin Van Peebles than just that. As he is the epitome of the modern renaissance man, Van Peebles has also been a navigator for the air force, drove a trolley in San Francisco, a writer, a musician(although as one person puts it, he sings like a 'frog on crack'), a television commentator and, oh why not, a Wall Street trader. He came to filmmaking while living in France where as a writer he was able to get a part-time filmmaking license.(Which is so cool by the way.) And that led to Hollywood, followed by his greatest success with 'Sweetback' that as the documentary puts it, made it hip to be a revolutionary, unlike the movie's many imitators which simply did not get it. Okay, there are some places where this documentary does not go very deep, but probably for the best, considering it would involve Van Peebles' personal life. And I would like to salute his stamina for his prolific love life which in reality probably did lead to more than its share of heartbreak. And sadly there is no mention of his son Mario's film "Baadasssss!" about his father's film, nor about Mario's very small and controversial part in said film.
How to Eat Your Watermelon in White Company (And Enjoy It) Quotes
There are no approved quotes yet for this movie.