How to Lose a Guy in 10 Days
(2003)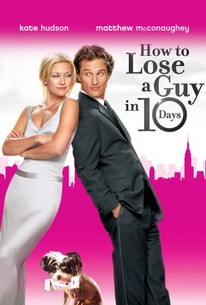 TOMATOMETER
AUDIENCE SCORE
Critic Consensus: Matthew McConaughey and Kate Hudson are charming together, but they can't overcome How to Lose a Guy in 10 Days' silly premise and predictable script.
How to Lose a Guy in 10 Days Videos
How to Lose a Guy in 10 Days Photos
Movie Info
Two New Yorkers fight the battle of the sexes to a standstill (without entirely realizing it) in this romantic comedy. Andie (Kate Hudson) is a young journalist who longs to cover political stories, but in the meantime she finds herself writing for a women's magazine called Composure, where her editor Lana Jong (Bebe Neuwirth) has her writing a fluffy advice column. After hearing of the latest dating laments of her relationship-challenged friend Michelle (Kathryn Hahn), Andie sells Lana on the idea of writing a piece on the things women do to alienate the men they love, which she'll demonstrate by winning and then driving away a man in a mere ten days. Meanwhile, Ben (Matthew McConaughey) is an advertising man who wants to land a prestige diamond account at his firm. Ben is competing with his pals, Spears (Michael Michele) and Green (Shalom Harlow), for the assignment, so Ben tells his boss Phillip Warren (Robert Klein) that he's the man for the job because he understands the fair sex so well he can make any woman fall for him in less than two weeks. As fate would have it, Andie and Ben end up choosing one another for their mutual assignments, with neither knowing about each other's secret agenda as Ben strives to hold on to Andie while she does everything in her power to annoy him. How to Lose a Guy in 10 Days was loosely based on the self-help book of the same name (subtitled The Universal Don't of Dating) written by Michele Alexander and Jeannie Long. ~ Mark Deming, Rovi
Critic Reviews for How to Lose a Guy in 10 Days
Audience Reviews for How to Lose a Guy in 10 Days
Hudson and McConaughey have chemistry together but the plot is not exactly the best and basically falls short like in most rom-coms.
½
For the life of me, I can't even remember why I ever saw this in the first place, especially since I'm not big on this sort of thing to begin with. This is a typical rom com that offers nothing really new, and is just one of a countless number of films that rehashes cliches, predictability, and fleeting entertainment. The set up is that we get a woman journalist stuck writing a fluffy advice column who thinks she can write an article about the ways women alienate and drive away the men they love. She sets out to prove this by winning over then losing the heart of a man in a mere ten days. Meanwhile, we get a businessman competing for an account who tells his boss he's the man for the job because he can understand what makes the fairer sex tick, and sets out to prove this by winning over a lady's heart in less than two weeks. As you'd expect, these two people cross paths and target one another for their perspective projects...and the results end up going in a completely surprise free direction. The thing is, I think the initial premise, while flawed, is actually kind of interesting, and in the hands of talented writers and directors, could be done extremely well. Woody Allen (for example) could probably have knocked this out of the park. Unfortunately that doesn't happen, and the result is just typical generic crap. There's some laughs, but ultimately this is dull, not that funny, and rather forgettable. It sucks that they also got talented people to cash in and squander their abilities, but, considering my knowledge of film, I probably shouldn't be all that shocked. If you have a thing for mediocre rom coms you'll probably like it. If not, I'd stick with something else.
Chris Weber
Super Reviewer
½
Kate Hudson's smugface is really not my cuppa tea, but she is stunning in that gold number (and in those giant Ann Taylor Loft banners at the mall). The movie isn't as annoying as I remember, but much of it is Hudson doing embarrassing, stereotypical stuff. There's some real heart when Andie meets Ben's kooky but loveable family. Then the big reveal is kinda argumentative for no reason. Andie's all hurt that she was just a bet, but she was using Ben too, so it's just a ham-handed unraveling for dramatic purposes.
Alice Shen
Super Reviewer
How to Lose a Guy in 10 Days Quotes
| | |
| --- | --- |
| Andie Anderson: | I'm going to make you wish you were dead (as she smiles at Ben) |
| Andie Anderson: | I'm going to make you wish you were dead. |
| | |
| --- | --- |
| Jeannie: | Drama, drama, drama |
| Jeannie: | Drama, drama, drama. |
| | |
| --- | --- |
| Andie Anderson: | Oh I missed you Benny Wenny boo boo boo! |
| Andie Anderson: | l miss you, Benny boo- boo, boo-boo-boo. |
| Andie Anderson: | l miss you, Benny boo-boo, boo-boo-boo. |
| | |
| --- | --- |
| Andie Anderson: | You can't lose something you never had |
| Andie Anderson: | No I didn't Ben, cause you can't lose something you never had! |