How to Marry a Millionaire
(1953)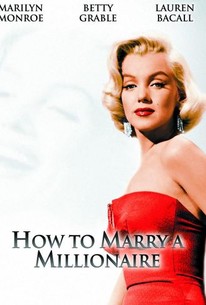 How to Marry a Millionaire Photos
Movie Info
Three New York models, Shatze, Pola and Loco set-up in an exclusive apartment with a plan: tired of cheap men and a lack of money they intend to use all their talents to trap and marry three millionaires. The trouble is that's it's not so easy to tell the rich men from the hunters and even when they can, is the money really worth it?
Critic Reviews for How to Marry a Millionaire
Audience Reviews for How to Marry a Millionaire
Monroe and Bacall are charming and charismatic as ever, but in an only occasionally amusing (yet outdated and rarely really funny) story about three women trying to catch a rich man to marry - a plot that, let's be honest, may not be everyone's idea of a good, fun comedy.
Carlos Magalhães
Super Reviewer
Silly and unimaginative, but with a good cast, it's not a great movie but worth watching if you like the cast.
I love old films, and this is no exception. Marilyn is pouty and ignorant as ever, Lauren Bacall sophistacted yet vulnerable, and Betty Grable just plain dim. It all works out for a great comedy.
Spencer S.
Super Reviewer
How to Marry a Millionaire Quotes
There are no approved quotes yet for this movie.