How to Steal a Million
(1966)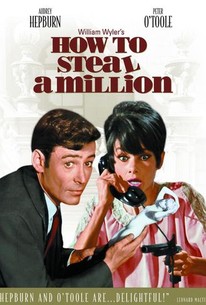 How to Steal a Million Photos
Movie Info
In this elegant "caper" film, Audrey Hepburn stars as the daughter of a wealthy Parisian (Hugh Griffith), whose hobby is copying famous works of art. His replica of a famed Cellini sculpture is inadvertently displayed in an art museum, and he begins to worry that he'll lose his reputation once the experts evaluate the statuette. Audrey decides to rob the museum, and hires a burglar (Peter O'Toole) for that purpose. But the burglar is really a detective, who has every intention of arresting Audrey and her father when the deed is done. All style and little substance, How to Steal a Million is consummately acted by the stars, but the film is stolen hands-down by a "double take" reaction from French comic actor Moustache. The film was originally titled How to Steal a Million Dollars and Live Happily Ever After, which gave the whole game away and thus was pared down before release. ~ Hal Erickson, Rovi
News & Interviews for How to Steal a Million
Critic Reviews for How to Steal a Million
Audience Reviews for How to Steal a Million
½
Wasn't I just in 1960's Paris w/Peter O'Toole (What's New Pussycat, and I panned him) a little while ago? Well, what a difference a day makes, or a co-star, at least if your co-star is Audrey Hepburn. In a pairing reminiscent of William Powell and Myrna Loy in the Thin Man series of yore, the screen practically bubbles with these two simply reacting off of one another. Why this coupling was never repeated I'll never know, but it's butter on the screen. Oh, yes, there's some sort of story going here, something about a museum heist, something to do with art, I don't know, or care really, cause this film was actually wrapped when the casting director signed these two on.
Kevin M. Williams
Super Reviewer
O'Toole and Hepburn make a great comedy team, they should have been in more movies together. This movie is hilarious and very fun, I really liked it.
This film is sheer brilliance! It was funny, well-acted, great and tremendously clever story! I totally loved it from start to finish! Even the stealing work was very clever and funny! Especially the twists at the end!
Jennifer D
Super Reviewer
How to Steal a Million Quotes
| | |
| --- | --- |
| Nicole: | I'm sorry I'm late. I was getting engaged. |
| Simon Dermott: | Well, we have about ten more minutes before we commit the crime, so if you would like to go back and marry the fellow... |
| | |
| --- | --- |
| Simon Dermott: | There's the bathroom. Take off you clothes. |
| Nicole Bonnet: | Are we planning the same sort of crime? |
| Simon Dermott: | Your quite safe. It's dress rehearsal time. That's why we bought all this lovely junk. |
| | |
| --- | --- |
| Simon Dermott: | Why must it be this particular work of art? |
| Nicole Bonnet: | You don't think I'd steal something that didn't belong to me, do you? |
| Nicole Bonnet: | Excuse me, I spoke without thinking. |