How to Succeed in Business Without Really Trying
(1967)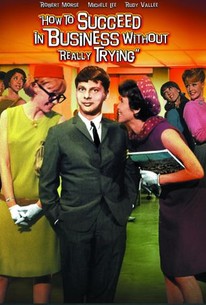 How to Succeed in Business Without Really Trying Videos
How to Succeed in Business Without Really Trying Photos
Movie Info
Robert Morse recreated his Tony-winning stage role in this 1967 film version of Frank Loesser's Pulitzer Prize-winning Broadway musical. A humble window washer at the New York offices of World Wide Wickets, J. Pierpont Finch applies the lessons he's learned from a book called How to Succeed in Business Without Really Trying to wangle his way to the top of the executive heap. Though advised by the mailroom supervisor (Sammy Smith) to keep a low profile and play things "The Company Way," Finch follows his own skewed set of rules, endearing himself to bombastic company president J. B. Biggely (Rudy Vallee) by posing as a graduate of Grand Old Ivy, Biggely's alma mater. As he climbs to the top, Finch manages to dispose of an over-amorous rival by arranging a tryst between that rival and curvaceous secretary Hedy LaRue (Maureen Arthur)--who happens to be Biggely's live-in girlfriend. Finch also gets rid of the troublesome Mr. Ovington (Murray Matheson) by exposing the latter as an alumnus of Old Ivy's hated rival university. Graduating to vice-president, Finch feels secure enough to sing the show's one genuine love song "I Believe In You"--to himself! Actually, he's really in love with true-blue secretary Rosemary (Michele Lee), but won't admit to this until he suffers a career setback. Most of Loesser's songs survived the transition from stage to screen, with the exception of "Paris Original," which is heard merely as background music.
Critic Reviews for How to Succeed in Business Without Really Trying
Audience Reviews for How to Succeed in Business Without Really Trying
½
You get the sense the some of the rougher satire in the original stage musical has been smoothed out for more mainstream audiences but what's there is still effective. Although the best reason to see the film is for Morse, whose wonderfully strange performance is the antithesis of what you'd expect from a musical comedy. He makes such consistent offbeat choices that you might wonder why any of the producers left him in the picture if you weren't so glad they did.
Alec Barniskis
Super Reviewer
½
Such a hilarious musical comedy, it's charming and enjoyable, and has a great cast of not so well known actors. The story is just what it says, a young guy gets a book with the same title as the movie, and follows the steps to quickly climb the corporate ladder with so much ease, that it's ridiculous. This makes fun of the corporate workplace and job hunting. I loved it, and I highly recommend it.
Bright, splashy film musical about an ambitious young window washer who rises through the ranks of a large corporation following the advice of a self-help book. Textbook example of how to do everything right in translating a musical from stage to film. Features a wonderful Frank Loesser score including the songs, "I Believe In You" and "The Brotherhood of Man". Robert Morse and Rudy Vallee reprise their original Broadway roles. Film debut of Michele Lee.
Mark Hobin
Super Reviewer
How to Succeed in Business Without Really Trying Quotes
There are no approved quotes yet for this movie.