How to Train Your Dragon: The Hidden World
(2019)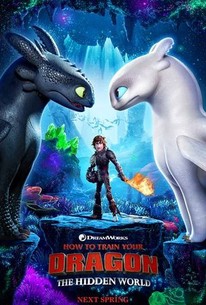 TOMATOMETER
AUDIENCE SCORE
Critic Consensus: The rare trilogy capper that really works, How to Train Your Dragon: The Hidden World brings its saga to a visually dazzling and emotionally affecting conclusion.
How to Train Your Dragon: The Hidden World Videos
How to Train Your Dragon: The Hidden World Photos
Movie Info
Now chief and ruler of Berk alongside Astrid, Hiccup has created a gloriously chaotic dragon utopia. When the sudden appearance of female Light Fury coincides with the darkest threat their village has ever faced, Hiccup and Toothless must leave the only home they've known and journey to a hidden world thought only to exist in myth. As their true destines are revealed, dragon and rider will fight together-to the very ends of the Earth-to protect everything they've grown to treasure.
News & Interviews for How to Train Your Dragon: The Hidden World
Critic Reviews for How to Train Your Dragon: The Hidden World
Audience Reviews for How to Train Your Dragon: The Hidden World
½
There's a dragon killer on the loose, professional, relentless, indefatigable, out to kill all the dragons he can. Can the team stop him before he succeeds? With loads of shots of dragons gracefully gliding through white and puffy clouds,, this screen goodbye to the series, and to the fans who love it, is rife with nods to friendship together with self-determinism. The experience is not Toy Story 3, but still is enjoyable.
Kevin M. Williams
Super Reviewer
How to train your expectations for the concluding chapter in the How to Train Your Dragon franchise: step one, lower them. I was dispirited to discover what a disappointing final chapter The Hidden World comes across, especially considering the previous movies, including the 2014 sequel, are good to great. At its core it's always been a tale of prejudice and family, dressing up a simple boy-and-his-dog story with fantasy elements. It also presents a world with danger and cost; even the fist film ended with the main character, Hiccup, losing a freaking foot. He loses his father in the second film. It's a series that has grown naturally with heart, imagination, and a real sense of stakes. This is why I'm sad to report that the third film feels like a different creative team made it. The villain is a repeat of the second film, a dragon hunter with little to be memorable over. The plot is very redundant, stuck in an endless loop of capture, escape, capture, escape, etc. The addition of the new lady dragon is a perfunctory means to drive a wedge between Hiccup and toothless, his dragon. The lady dragon has no personality and needs rescuing too often. Her inclusion relates to a rather regressive emphasis on the need for coupling and marriage. The titular Hidden World amounts to a grand total of five minutes of screen time. The action starts off well involving the various colorful side characters but misses out on that sense of danger that defined the other movies. It feels goofy and safe and listless. How to Train Your Dragon: The Hidden World is a sizeable disappointment and coasts on the emotional investment of the first two movies. You'll feel something by the end, sure, but it's because of the hard work of others and not this movie. Nate's Grade: C
Nate Zoebl
Super Reviewer
The How to Train Your Dragon films have been some of the best-animated features each year that they have been released. After the first film, I never once could have guessed that a sequel would be anywhere near as good. To my surprise, the second instalment built off the original story and was just as good of a film. I'm also happy to report that this is how one of the best-animated trilogies ever made, in my opinion. It has been quite some time since a trilogy of films has been consistently great from start to finish. If you are a fan of this series in any way, I highly recommend seeking this one out. I doubt you will be disappointed. Picking up years after the events of the second film, Hiccup is how the chief of Berk, where people have now created a Dragon utopia, where they save and build homes for them. Seeming like the world is at ease, a new threat now looms on the horizon in Grimmel. Threating the lives of every dragon, they must band together and search for the long lost Hidden World of dragons. This story has been told many times throughout the years and the villain himself is quite bland, but that is simply not the point here. The villains have been fairly generic from the very beginning, but I believe that is due to the fact that viewers are supposed to care more about the core characters over anything else. Once again, the animation is out of this world and I found myself captivated by every frame. Whether it was two characters interacting with a gorgeous backdrop or dragons soaring through the skies with an emotional score to support the visuals, I was blown away by this movie on a technical level. Dreamworks animation is now at the point where they can compete with Disney/Pixar and possibly be even better. We are in fantastic times for animation and I can't see it getting much better than this. The promotional material has been promoting this film as the final instalment of this trilogy and it definitely feels like that throughout the final moments of this film. Not only does this movie have the best ending out of all three of these movies, but it's honestly one of the best and most satisfying conclusions to a film I have seen in a long time. Having loved the previous two films, this conclusion felt earned and emotional for those who have been invested from the beginning. In the end, How to Train Your Dragon: The Hidden World is on par with the first two films in terms of how well the story is told. These movies care about their characters and this movie brings the series full circle in the best possible way. If you have been invested like me, it will be very hard to not walk out of this film with a big smile on your face. I loved every minute of my experience watching this movie and I feel it will be a long time before we see another animated series come along that gives the How to Train Your Dragon films a run for their money. This is a fantastic film and a fantastic trilogy overall.
How to Train Your Dragon: The Hidden World Quotes
There are no approved quotes yet for this movie.