Howl
(2015)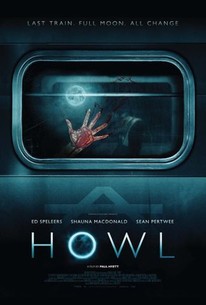 Movie Info
Young ambitious ticket collector Joe is overseeing the last train out of London on a dark and stormy night - the usual collection of passengers on board from the obnoxious teen to the workaholic businesswoman. Suddenly the train screeches to a halt in a forest after hitting something on the tracks, but the investigating driver never returns.
Audience Reviews for Howl
½
A train breaks down in the middle of the night, in the middle of nowhere, and there's a full moon in the sky. If you enjoy the idea of werewolves but are perhaps not happy with how they've been treated cinematically for say, ummm, the last 20 years or so, then close your eyes, tap your heels together 3 times, and turn around and give this one a chance ... you can go home again ... the first decent werewolf movie I've seen in, like, forever. And even scary, too. Zowie.
Kevin M. Williams
Super Reviewer
½
"I am sick of these motherfucking werewolves on this motherfucking train!" Pulp-y Monster Movie with just enough going for it to keep you entertained.
Howl Quotes
There are no approved quotes yet for this movie.