Howling
(2012)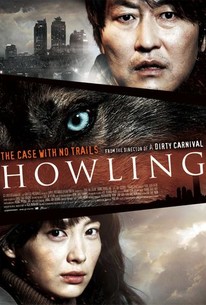 AUDIENCE SCORE
Critic Consensus: No consensus yet.
Movie Info
Detective Sang-gil and beat cop Eun-yeong are in charge of a case that seems to involve a simple act of self-immolation. Sang-gil initially thinks that it was an accident, but dog bite marks discovered on the body lead him to believe that someone had terrorized and murdered the victim. With Sang-gil working secretly and hoping for a promotion, he and Eun-yeong investigate the source of the drugs found in the body and discover the victim had been pimping out young girls. At the same time, another murder involving a wolf-dog crossbreed occurs, revealing teeth marks similar to the one's on previous victim's body. The two cases are labeled serial killings... -- (C) C&J Entertainment
Critic Reviews for Howling
There are no critic reviews yet for Howling. Keep checking Rotten Tomatoes for updates!
Audience Reviews for Howling
Ha Yoo's Howling falls right into place as another solid Korean crime thriller.
The title sounds like something out of a science fiction or horror piece, but don't let that fool you. The story plays out like a crime thriller should. The initial setup is a bit lengthy; however, as time passes and the clues begin to reveal themselves, 110 minutes of screen time doesn't seem that bad. Sure the pacing isn't exactly on speed, but the wolf-dog element adds an interesting flavor to the plot.
The violence is lightly gruesome. Lightly in the way that the kills are intense, but the blood content is held in check.
It is hard to fault Kang-ho Song at this point. The detective role is no stranger to him and he pulls it off without fail. The lovely Na-young Lee is a good compliment to Song's character.
Is Howling a recommendable film out of Korea? Yes.
I thought this was a pretty good movie. The concept could've potentially been very silly and, in a way, it still was but I felt that all things considered the concept worked about as well as it would have. No more, no less. Of course the only reason I watched this was because of Song Kang-ho who, if you've followed my reviews (and realistically who has...I simply do this out of ego, apparently), is one of my favorite actors. And of course he doesn't disappoint in this movie. It's not one of his best roles, but that's only because the character doesn't really require much of his talents. It's not a role that highlights what he can do. He was still good though. The movie opens up with the typical new kid on the block who's partnered up with a veteran. The veteran doesn't want a partner. Of course the fact that she's a woman also opens up the whole sexism issue. So it's standard stuff realistically and the movie was sort of lacking in the first half because of this. The second half definitely picks up as you get more story and what actually happened. Again, it's not anything mind-blowing, but it works. And, as a dog owner, they definitely found a way to make me sad at the turn of events by the end of the movie. Of course you didn't need the sad music, it was sad enough as it is, but I've gotten used to these movies trying to manipulate my feelings. It's, apparently, one of the foundations of South Korean cinema. Really the movie isn't going to re-invent the wheel as far as suspense movies go, and really as far as good movies go this is on the lower end of that. It just barely makes the rating that it has, so I wouldn't exactly recommend it.
Jesse Ortega
Super Reviewer
Howling Quotes
There are no approved quotes yet for this movie.