Howling III: The Marsupials
(1987)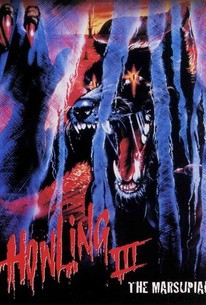 Howling III: The Marsupials Photos
Movie Info
This entry is another in a series of werewolf films based on the 1981 Joe Dante cult hit.
Critic Reviews for Howling III: The Marsupials
Audience Reviews for Howling III: The Marsupials
Howling III is the third entry in the series, and like so many of the entries in this franchise, this film is yet another poor attempt to try and make a sequel to a classic. This is another dreadfully bad sequel that doesn't do anything to thrill or entertain. Everything about the film is poor. This third entry is an utter mess of a film and doesn't do anything new or original. The screenwriters couldn't write an effective film and the plot falls apart very quickly. The actors deliver awful performances and this yet another mediocre sequel. Unfortunately for fans of the original Joe Dante classic, there have many more awful sequels that really don't make any sense. Howling III is no different than any other sequels in this watered down franchise. This yet another boring entry that really doesn't do anything whatsoever in to elevate the storytelling set in Dante's original classic. If you ask me, The Howling never did need any sequels because the screenwriters are clearly unable to create something that captures the essence of the original film. That's why the sequels in this series have constantly failed, they're poorly done, and they all fail to deliver the werewolf action that fans have come to expect from the first film. Add to that poorly done effects that clearly look fake and bad directing, and you have yet another film that fails to deliver the thrills. Avoid like all the others.
½
Far from being scary . The directing is pretty cool and the acting isn't that shabby. But beware the baby werewolf and its plastic family. Its surreal story keeps entertaining with appearances from a couple of charasmatic aussies including Dame Edna Everage, this is not neccesarily and good thing but you will see what I mean towards the end. The Abbos I liked. You can watch this for free (legally) at Blinkbox.com
Alexander Wilson
Super Reviewer
Howling III: The Marsupials Quotes
There are no approved quotes yet for this movie.