Howling: Reborn
(2010)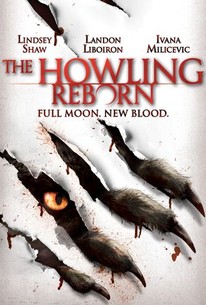 Movie Info
The series spawned by Joe Dante's classic 1981 werewolf outing is resurrected with this Moonstone Entertainment production helmed and scripted by Joe Nimziki. ~ Jeremy Wheeler, Rovi
Critic Reviews for Howling: Reborn
Audience Reviews for Howling: Reborn
Eight entry in The Howling series is an unimpressive, poorly constructed entry that makes you realize that by now, the studios are just making the films to make a quick buck. This isn't so much a sequel, but more of a reboot of sorts. Unfortunately for the filmmakers, if they tried to capture the essence of the original 1981, Joe Dante classic, they failed. This film is nothing more but a poor attempt of cashing in on a classic title, simple as that. The films plot is poorly constructed and the screenwriters are struggling with getting their ideas off the ground. What do you expect if it's the eight film is a tired, dragged franchise? A reboot of the classic werewolf film is not necessary, and they should just stop making sequels to The Howling, because none of them were good, and failed to be as terrifying and good as the original. Howling: Reborn is not a good film. The story is poorly constructed, the acting is sloppy and the direction is terrible. Howling: Reborn may have been a good reboot, but it isn't. This film fails to deliver the thrills, and is a total waste of time. There's really no point in watching this film, and the film is a total mess from start to finish. Hopefully this will be the final film in this tired out franchise. The film is bad, with nothing entertaining about its plot. The film was just made to make money, and with the end result, it shows and that the filmmakers didn't care about this reboot. The film is a misfire and should never have been made.
A long running 1980s horror franchise is resurrected in The Howling Reborn. And in accordance with today's teen-aimed horror films, this new werewolf tale takes the youthful Twilight route. This seems a complete disappointment with terrible editing and poor storyline. The acting, well it isn't that bad, but the acting of Ivana Milicevic, as a werewolf mother, is bloody poor where you can see a scene when the camera turned a mother into human shape after killed by one of werewolf and she was lying naked and "dead" on the floor as you can actually see that 'till the end of the shoot, she started smiling. That really bugged my eyes. The special effects are terrible, you can't actually see how they turn into werewolves, and the werewolves are hideous.
Dean McKenna
Super Reviewer
½
More like Howling Aborted. A tired and teeny tale of young love and the forces that drive them apart. Oh and there's something about werewolves too. Laughably bad.
A.D. Villarreal
Super Reviewer
Howling: Reborn Quotes
There are no approved quotes yet for this movie.