Howling V: The Rebirth
(1989)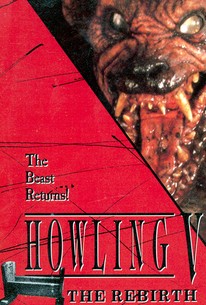 AUDIENCE SCORE
Critic Consensus: No consensus yet.
Howling V: The Rebirth Photos
Movie Info
Basically another variation of Ten Little Indians with a werewolf thrown in for good measure, this plodding sequel refers less to previous Howling installments than to the source novels by Gary Brandner. The stage is set at an ominous Romanian castle, where the ancestors of a legendary werewolf bloodline committed suicide in the 15th century to rid the world of their monstrous kind. Apparently they did not entirely succeed, since 500 years later a diverse group of guests is invited to the castle by its resident count (Philip Davis), who plans to reveal the identity of a lycanthrope in their midst: the descendant of the one werewolf who got away. Filmed on location in Budapest, this film benefits from its ominous Gothic setting and an interesting score, but there is little else to recommend it; the mystery monster is onscreen for barely more than five minutes, making one wonder whether the film was originally intended to be a Howling sequel at all.
Critic Reviews for Howling V: The Rebirth
All Critics (2) | Fresh (0) | Rotten (2) | DVD (1)
Howling V: The Rebirth is a painfully dull, poorly produced and badly acted cheap cash in on a series that I don't even know made any money to begin with. The fact that they couldn't even write in, or afford, werewolves makes the film a must miss.
Audience Reviews for Howling V: The Rebirth
The problem with this franchise is that they introduce interesting ideas for plots, but with poorly developed characters, bad actors and helmed by bad directors, these sequels always fall flat. The Howling franchise has had the misfortune of having some of the worst sequels in horror history. This film is yet another folly that doesn't deliver. You'd think that for a horror franchise, these films would deliver some terrifying thrills, right? Well this one follows the same path as previous and future sequels. This is a boring, unimpressive film with bad acting, a bad plot that leaves you uninterested in what's going on. The film really doesn't satisfy, and you keep wondering why they're making sequels to a great film. This fifth entry doesn't have any good horror elements, and you see that it's a tired effort that the screenwriters didn't put too much effort to try and create an effective, fun and thrilling horror film. At this point in the series, it was all about making a quick buck, and not caring about delivering a solid plot for a film. This is an awful film not worth your time. If you're looking for a good horror film, pass up on this, you definitely won't find it here. This is a missed opportunity that only delivers a bad plot with a bad cast of actors that really sink this film and makes The Howling franchise, aside from the first film, one of the worst series in horror.
Howling V: The Rebirth Quotes
There are no approved quotes yet for this movie.