Hubert Selby Jr.: It'll Be Better Tomorrow
(2006)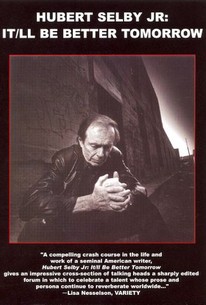 AUDIENCE SCORE
Critic Consensus: No consensus yet.
Hubert Selby Jr.: It'll Be Better Tomorrow Photos
Movie Info
Hubert Selby Jr. was a powerful and influential literary figure whose best-known novels, Last Exit to Brooklyn and Requiem for a Dream, dealt with the dark underside of life in a way that was bleak and often shocking, but also laced with compassion and understanding for the tortured lives of his characters. Selby only completed the eighth grade when he became a merchant marine and contracted a severe case of tuberculosis from infected cattle. While Selby survived thanks to bootleg antibiotics, he lost a lung and had to give up his physically punishing work at sea. Selby took up writing and developed a unique style that helped make his first novel, 1964's Last Exit to Brooklyn, a critical success and a controversial best-seller. However, Selby developed a massive appetite for alcohol and drugs which derailed his career, and by the time he published his second book, 1971's The Room, Selby was all but forgotten. However, Selby's work developed a passionate following in Europe, and was rediscovered in the United States after a successful film adaptation of Last Exit to Brooklyn was released. Hubert Selby Jr.: It/ll Be Better Tomorrow is a documentary which explores the life and work of this unlikely literary icon, and features extensive interviews with Selby as well as his friends and admirers. Interview subjects include Lou Reed, Henry Rollins, Richard Price, Nick Tosches, Ellen Burstyn, Darren Aronofsky, Uli Edel, Amiri Baraka, and Jerry Stahl. Robert Downey Jr. serves as narrator.
Critic Reviews for Hubert Selby Jr.: It'll Be Better Tomorrow
There are no critic reviews yet for Hubert Selby Jr.: It'll Be Better Tomorrow. Keep checking Rotten Tomatoes for updates!
Audience Reviews for Hubert Selby Jr.: It'll Be Better Tomorrow
½
"Hubert Selby Jr.: It/ll Be Better Tomorrow" is an informative documentary about the famed writer and chronicler of the underbelly of this country. As recounted in interviews with friends and admirers(including one with Selby shortly before he died in 2004), the movie details his life starting in Brooklyn before signing up with the Merchant Marine during World War II where he contracted tuberculosis.(I won't recount the exact nature of the treatments in case anybody is eating right now.) After having so many close calls with death, he decides to do something momentous with his life which turns out to be writing, having great success and controversy with his novel "Last Exit to Brooklyn." Despite that, the documentary relays his advice that you cannot get rich from writing which he did. His only problem was he put it all back in his arm with heroin before getting clean and writing more novels, eventually teaching creative writing at USC which is ironic, considering he never even got his high school diploma. Otherwise, Selby's personal life could be summed up in three wives, four children and twleve grandchildren. The first I head of Selby came with the movie version of "Requiem of a Dream" which I remember watching the last section through my fingers; it was so intense.("Last Exit to Brooklyn" is available on DVD! Now, I'll have to finally get around to seeing it.) And the documentary does a very good job of showing what is so distinctive about Selby's writing through a couple of examples. That's not to mention his continuing appeal to European filmmakers which is also similar to how the works of Charles Bukowski and others are received. That leads to my only serious issue in this otherwise fine documentary that only displays Selby's works in a vacuum, as if he was the only one writing about the down and out. He wasn't
½
Hubert Selby, Jr. is my favorite writer, and a person who I have always found fascinating. Through a series of interviews and brief references to his work, this documentary captures his unique essence quite well. Emotionally engaging and intelligently put together.
Hubert Selby Jr.: It'll Be Better Tomorrow Quotes
There are no approved quotes yet for this movie.