HULK VS.
(2009)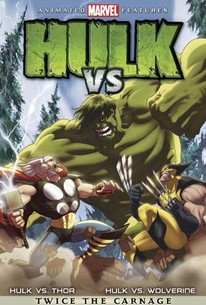 Movie Info
The mightiest heroes in the history of Marvel Comics go toe-to-toe in two animated, action packed features that will have Hulk fans screaming for more. The big green meaning is tearing up the Canadian wilderness, and the only person capable of stopping him is Wolverine. In "Hulk Vs. Wolverine," the steel-clawed agent of Canada's clandestine Department H sets out on a mission to stop the Hulk by any means necessary. Later, in "Hulk Vs. Thor, Loki the trickster takes advantage of Odin's regenerative sleep by unleashing none other than the Incredible Hulk on his accursed stepbrother Thor. Knowing well that the powers protecting Asgard are at their weakest while Odin slumbers, Loki takes the opportunity to spring a trap that will pit the mighty Thor against his most formidable adversary to date. ~ Jason Buchanan, Rovi
Critic Reviews for HULK VS.
Audience Reviews for HULK VS.
12/05/2011 (ONLINE) HULK BEATS EVERYBODY! I love this stuff and I guess its easy to chew since I am a fan of the mean-green madman. Awesome animated action and cool interesting enough story to keep me in. WOLVERINE and HULK. Two animalistic maniacs. An awesome match! "Pure Rage" versus "Balls Of Steel"... THOR's power versus HULK's rage! Another catastrophic rumble between two supernatural beings, toe to toe and head to head! Fantastic double feature for Marvel junkies and Hulk fanatics.
EightThirty .
Super Reviewer
½
Two superb mini movies including the Hulk, Thor and Wolverine and many more marvel characters. To me both were good but the Hulk and Wolverine one was the best to me or that I like more. Great times!!! First: Vs. Wolverine, Hulk has been tearing a line across the Canadian countryside, leaving a swath of destruction in his wake. He has to be stopped, and there's only one man up to the job. He's the best there is at what he does, but what he does isn't very nice. He's Wolverine, an elite agent of Canada's top secret Department H, and he's been put on Hulk's trail with a single objective: stop the green Goliath...at all costs. Hulk and Wolverine are about to enter the fiercest battle of their lives. Second Part: Vs. Thor: Asgard, realm of the gods. For ages, Loki the trickster has sought a way to bring defeat to his accursed stepbrother, Thor. But for all the battles Thor has fought, in all the nine realms, only one creature has ever been able to match his strength - a mortal beast of Midgard known as The Incredible Hulk. Now, with Odin, the almighty king of the gods, deep in a regenerative sleep, and the forces protecting Asgard at their weakest, Loki is finally ready to spring his trap. In an epic battle that will pit gods against monsters, that will test a hero's limits more than ever before, only The Mighty Thor can hope to prevail.
½
It's essentially geared toward a young audience that loves seeing endless and brutal fight scenes. That part of me loved it, as well as the John Romita Jr style animation. However, this is nothing great in terms of storytelling or characters. It's pretty corny at times, especially in the Thor segment, and things seem incredibly rushed.
Conner Rainwater
Super Reviewer
HULK VS. Quotes
There are no approved quotes yet for this movie.