Human Desire
(1954)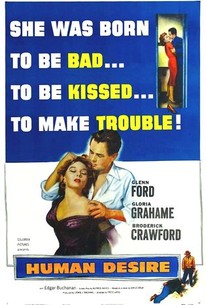 Movie Info
After being fired by the railroad, Carl Buckley (Broderick Crawford) returns home, where his femme fatale wife Vicki (Gloria Grahame) initially sympathizes with his plight. However, she resists Carl's plea to ask Mr. Owens (Grandon Rhodes), an old friend and major freight customer of the railroad, to intercede on his behalf. She finally relents, and they go to the city, where Vicki meets with Owens. When she is successful, Carl accuses her of having an affair with him. He forces Vicki to write a letter arranging to meet Owens on the train. Carl accompanies Vicki to Owens's compartment where he kills him and retrieves the letter to use against Vicki. Spotting Jeff Warren (Glenn Ford), an old railroad buddy and not wanting to be seen, Carl insists that Vicki distract Jeff. Vicki seduces him, beginning an affair in which she so bewitches Jeff that he agrees to kill her husband. An American version of Jean Renoir's version of Emile Zola's novel La Bete Humaine, Fritz Lang's Human Desire is a tragic reminder that jealousy is a self-fulfilling prophecy.
Critic Reviews for Human Desire
Audience Reviews for Human Desire
In "Human Desire," Jeff Warren(Glenn Ford) is just back from the wars and at his job as a train engineer. At work, he encounters Carl Buckley(Broderick Crawford), a friend, who soon enough loses his job in a fight with management. So, Carl travels to the city with his wife Vicki(Gloria Grahame) to get his job back. Which she does. But when it takes much, much longer than he originally thought, this only goes to fuel his jealousy. Directed by Fritz Lang with no small amount of relish, "Human Desire" is not just a very good crime movie of the era it was made in, but also one very much ahead of its time. First, it is still the rare movie to point out when an older man is paired with a much younger woman which is usually still taken for granted. Second and more importantly is how the movie is also very honest about domestic violence, even if the vocabulary did not yet exist when this was made.
Not as good as The Big Heat but on its own a fine gritty noir. Gloria Grahame is excellent as usual, incredibly alluring but venal and base.
Human Desire Quotes
There are no approved quotes yet for this movie.