The Human Stain
(2003)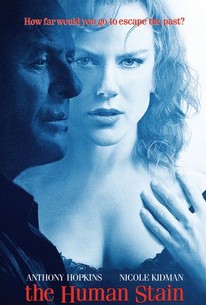 Movie Info
Coleman Silk is a man who, throughout his life, has been a master of deception and self-reinvention. As a promising college student, Coleman's first love, Steena, is shattered by a secret. Years later, as an esteemed professor, his career is ruined by false accusations. Now as he embarks on a scandalous affair with the mysterious Faunia, Coleman experiences an erotic reawakening that carries him back to the past. But with his resurrected passion also comes the threat of danger from Faunia's ex-husband, and Coleman is faced with the imperative to expose his true identity before it is too late.
Critic Reviews for The Human Stain
Audience Reviews for The Human Stain
This movie is based around the life of a classics professor (Coleman), who is currently living in a small New England town. He has harboured a dark secret for 50 years which slowly starts coming out and causes his life to unravel painfully. When he loses his job after being wrongfully charged of racism, his wife dies leaving this man who is near retirement, with nothing. He embarks on an affair with a young cleaning lady from the college which quickly turns into a relationship as they reveal intimate secrets to each other and finally find the release and trust they've each been searching for. I quite enjoyed this movie ? there was some excellent acting from some top actors, and the sense of intrigue and suspense was maintained throughout. The characters were well-written and the complexities which lingered within their personalities original yet believable. There were moments where I held my breath waiting for the tension to subside and others where I found myself wishing that everything could work out nicely for the people in this story, and remove the arguments and misunderstandings which threatened to ruin what good things they had. It is a truly great movie which can inspire this level of emotion in its audience. The main downside was the fact that it did not seem to flow very well between flashback sequences and the present. Of course I could clearly make out which scenes were of a younger Coleman and memories of the past, however at times failed to recognise their significance at that particular point. It may have been a better idea to insert several shorter flashback clips instead of the lengthy scenes used so that the connection with the present was not lost. There were also sections where the story lagged slightly and I questioned the need for these scenes. In some parts the use of visual without dialogue was extremely effective, but in other parts I felt that the scenes existed solely for the sake of art. In particular, scenes such as the lingering shot of Coleman cradling his wife as she died, froze time and really made me feel the incredible and very sudden loss he suffered. But in comparison, a sequence where the professor's young lady is dancing erotically for him seemed clumsily done as I felt it existed purely for the sake of displaying a sex scene. It did not have the effect of deepening our understanding of the emotions the two main characters felt, which I think it should have done. I was amazed at the end when the terrible secret was revealed through the investigations of a writer who the professor had befriended. To me it would seem wrong to live such a deception your entire life but the movie helped me to understand the character's motives and how he felt that he had no other choice. I was left feeling saddened that someone would have to deny their heritage to such an extent in order to achieve their goals. While it takes a bit of patience to get through the movie (which could have been 20mins shorter), I would highly recommend this movie to anyone. With any luck the more people who watch this movie, the more open-minded society will become and hopefully this type of prejudice will disappear.
Cassandra Maples
Super Reviewer
½
I'm becoming a huge fan of Nicole Kidman. She's obviously a stunning woman, but fortunately she's also an excellent actress. She disappears into her roles and The Human Stain is the best display of her talents that I've seen so far. Kidman and the rest of the cast give perfect performances that augment a very interesting plot. The Human Stain is essentially the story of two people's pasts and the events that still deeply affect their emotions and psyches. It takes a while before the entirety of the story is revealed, but if you're anything like me then you'll find yourself completely fascinated with each of the main characters by the end. There are one or two scenes that come of as less than aunthentic, but these littlle missteps help to keep the story humming along, so I can't complain too much. I highly recommend The Human Stain, it's very well put together and even managed a few unexpected twists and turns.
½
Decently-written, well-acted movie killed by its lack of focus. It's a testament to Nicole Kidman and Anthony Hopkins' abilities that they manage to create two compelling characters in this mess of a movie, but what's the point here? What is the movie trying to say? That racism is bad? That we're rabid in our attempts to be politically correct? That love overcomes age? That Hopkins can somehow make a passable black man? (nigga please) The Human Stain finds a whole bunch of themes in succession, discards them, and moves on to something new with unenthusiastic nods to the old ones every once in a while. Filmmaking for the ADD intellectual. And what was with that dance scene? Actually, there's a bizarre amount of dance scenes in this movie, so...what was with those four dance scenes?
Drew Smith
Super Reviewer
The Human Stain Quotes
| | |
| --- | --- |
| Ernestine: | People are just getting dumber. |
| | |
| --- | --- |
| Coleman Silk: | I don't think you can measure sorrow. |
| | |
| --- | --- |
| Coleman Silk: | I am not afraid of dying. I'm not the one who ran off to a cabin in the woods to hide out. |