Human Traffic
(2000)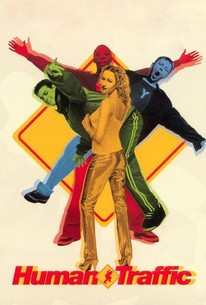 Movie Info
A chronicle of the lives of five Cardiff pals who foray into the chemical-induced culture of the British rave scene as an escape from boring jobs, bad relationships and dysfunctional families.
Critic Reviews for Human Traffic
Audience Reviews for Human Traffic
½
I'm not gonna lie... This is one very bizarre film. I picked this one up purely because I'd looked at it in shops before, and never actually bothered to watch it, and when offered a free film, one does not simply say no. John Simm, Danny Dyer, and others go together for a night out going out of their mind on every drug in the book. They hate their jobs, and they need a release. So what do they do? They get out and enjoy themselves! Although the plot is very week, the direction seems to put the viewer in the shoes of a hallucinating drug addict, with scenes shifting between reality, and mental fantasies that spring up to explain metaphors or similes, as well as a sing-a-long version of the new National Anthem of England! Hilarious comments such as "I decided to take heroine after watching the film Trainspotting!" and "Star Wars was all about junkies!" float all over the place, promising laughter all over the place. The cast works well together, and play their parts fantastically. John Simm especially fits the role fantastically, while showing the negative effects that drugs can bring, and how he tries to overcome it. While the film as a whole isn't really saying "don't do drugs, they're bad for you!", it does have a similar message to the book A Clockwork Orange (the edition with the 21st chapter, which I gather is not available for our American friends (but I could be wrong)), which says that we do loads of bad things or harmful things when we're young, but as time goes by we will all grow out of those habits. This message, combined with the humour of it all makes the film well worth watching. I hadn't seen a club film before, but I can tell that if they are all like this, it will be the first of many I will hope to watch.
BG Movie Reviews 2011
Super Reviewer
Very stylistic and colourful, representing the 90's very well. The cast were amazing together and you really felt like they'd been friends for a long time. Not my kind of movie but a good one of this genre.
Sophie Burgess
Super Reviewer
½
Fun, truth, friends and english dr0gs. worth checkin out if you haven't done so already.
Alexander Wilson
Super Reviewer
Human Traffic Quotes
There are no approved quotes yet for this movie.