Human Trafficking
(2005)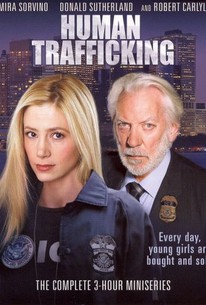 AUDIENCE SCORE
Critic Consensus: No consensus yet.
Movie Info
For naïve audiences under the impression that sexual slavery is a thing of the past, director Christian Duguay's Golden Globe-nominated tale of the multi-billion-dollar modern slavery industry proves that even in the 21st century, human life can still be measured in dollars. Four girls from across the world, including a 12-year-old American tourist on vacation overseas, have been kidnapped and thrust into the terrifying world of international sex trade, and a specialized team of Immigration and Customs Enforcement officers are determined to bring down the global network that sponsors such heinous crimes. A former victim who has dedicated her life to protecting the innocent, ICE agent Kate Morozov (Mira Sorvino) braves the flesh-peddlers of Russia and endures the terror of an urban torture chamber located in the very heart of Queens in order to bring the ruthless kingpin behind these crimes to justice. When the world's most dedicated cop crosses swords with the man who drives one of the most expansive global conspiracies on the planet, the stage is set for an explosive confrontation of epic proportions.
Critic Reviews for Human Trafficking
All Critics (1) | Fresh (1) | Rotten (0)
Aside from being overlong by about an hour and dabbling far too often in a "preachifying" style of storytelling, Human Trafficking isn't half bad.
Audience Reviews for Human Trafficking
Terrifying, graphic, and heartbreaking series. I was absolutely horrified to learn that this still happens, especially on U.S. soil.
Erin Collins
Super Reviewer
I recommend this movie to virtually everyone because this is the shocking truth; human trafficking and how it can devastate the victim's life, their family, but also society... society trying to cover things up. I liked the way they showed extensive scenes of violence which make us more aware of what is going on in this sneaky business. The scariest thing is that human trafficking is all around us but we never hear about it as much as we should...
This was an amazing look into a world that many don't really know about. I wasn't expecting to watch such a movie, but my friends ended up bring it over. Anyways, Donald Sutherland is always amazing and this is no exception to the rule. Mira Sorvino plays an agent that gets so much involved in a case that it ends up leading into so many events. A long movie, yet it doesn't seem like it. The way it goes reminds me of a television series and so many things happen within a blink of an eye. It really opens your eyes to the things you don't know about. Based on a true story, and what an intense film. Highly recommended.
Bannan instant enigma- just add water
Super Reviewer
Human Trafficking Quotes
There are no approved quotes yet for this movie.