Humboldt County
(2008)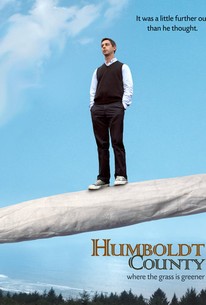 Movie Info
An ambitious and straight-laced young man falls in with a group of stoners and aging hippies in this independent comedy drama. Peter Hadley (Jeremy Strong) is a medical student in his early twenties whose dreams of a residency at a prestigious teaching hospital are dashed when he flunks out of a class taught by his father (Peter Bogdanovich). Trying to blot out his awful day, Peter heads to a jazz club, where he ends up going home with Bogart (Fairuza Balk), the sexy singer with the band. The next day, Peter tags along with Bogart as she pays a visit to her family, and is soon stranded with her aunt and uncle as she heads back into the city. Jack (Brad Dourif) and Rosie (Frances Conroy) are former academics-turned-bohemian dropouts who live in a remote and idyllic community near California's redwood forests, where they support themselves by growing marijuana. Also living with Jack and Rosie are Max (Chris Messina), Bogart's sometime boyfriend, and Charity (Madison Davenport), Max's young daughter. While Peter clearly doesn't fit in with Jack, Rosie, and their friends at first, before long he develops an appreciation and respect for their way of life as he ponders his future, but the risks of their profession become equally clear to him, and Max is looking for a big score so he and Charity can move on. Humboldt Country was the first feature film from the writing and directing team of Darren Grodsky and Danny Jacobs.
Critic Reviews for Humboldt County
Audience Reviews for Humboldt County
½
In "Humboldt County," Peter(Jeremy Strong) botches his final exam so badly that even his father(Peter Bogdanovich) is forced to fail him, making him lose out on a prestigious residency as a result. Finding solace in the arms and body of Bogart(Fairuza Balk), a jazz singer, Peter with nothing better to do decides to also accompany her north to her family home in Northern California. And then she promptly abandons him to the care of Rosie(Frances Conroy) and Jack(Brad Dourif). But once Max(Chris Messina) takes care of an irrigation problem, he will drop off Peter at the bus stop. The problem with "Humboldt County" is not its wanting to attempt a fish out of water comedy which could still work under the right circumstances. Which this isn't. Because once Fairuza Balk and her goofy grin leave the premises, the movie falls flat, especially in the all-important character development department. Of course, that's what happens when you have a protagonist who is not even awkward or uptight(which would be bad enough for a prospective doctor) but totally unresponsive. That leaves Frances Conroy, Brad Dourif and the usually reliable Chris Messina very little to work with. But the second to last shot, an extended one, is rather lovely.
"It was a little further out than he thought." Humboldt County is a very disappointing film. It has a few scenes that are really good and every time one of them comes; I would think the movie was about to start getting better. But then the movie would fall right back into a 20 minute lull. I guess the main problem, besides boredom, is the fact that I really didn't like the lead, Jeremy Strong. It might actually just be the character, but either way, I hated him. What saved the movie from being a complete waste of time were the performances by Brad Dourif and Chris Messina. Both were great and the only bright spots of the entire film. The movie was just so dry. It failed to really sell it's emotional climax at all. I really didn't care. The lead up is boring for the most part. Like I said, it does have a few moments where you may think the story and pace is going to pick up and become more interesting. But that was never the case. It was pretty much an exercise in mediocre storytelling throughout.
Melvin White
Super Reviewer
½
An uptight med student gets kidnapped by a bunch of dirty pot-growing hippies. No, really. Not that I have anything against dirty hippies, but these dirty hippies are also obnoxious and arrogant people who treat the uptight kid condescendingly. For some reason, the uptight med student likes the upheaval these unpleasant hippies bring to his life, and stays with them in the woods. The hippies all live in the woods like children, throwing random temper tantrums, but is that the point? Is Humboldt County a horror movie, revealing the ugly truth about escapism? Is it an indictment of the 60s generation? If the film had had a little more depth, had the characters not been so universally repulsive, the lesson might've had more impact. But these so-called "real" people are more self-centered and less empathetic than the worst stereotypical yuppy. As it is, there's very little to actually like here, outside of the under-used Peter Dogdanovich.
Devon Bott
Super Reviewer
Humboldt County Quotes
There are no approved quotes yet for this movie.