Humoresque
(1946)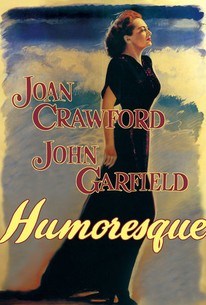 Movie Info
Fannie Hurst's novel Humoresque is the lachrymose tale of a famed Jewish-American violinist who forgets all about his friends and family in his rise to fame. Screenwriters Clifford Odets and Zachary Gold refashioned this timeworn material into a first-class, big-budget soap opera, completely dominated by the high-octane talents of Joan Crawford and John Garfield. A gifted musician, Garfield rises from the slums to the upper echelons of society, thanks to the patronage of wealthy, alcoholic Crawford. Virtually ignored by her husband Paul Cavanaugh, Crawford adopts Garfield as her lover as well as her protégé. He is only mildly offended by the setup; she, on the other hand, becomes jealous and possessive. It is not a woman who comes between Crawford and Garfield: it the intensity of his talent, not to mention the spectre of the great composers whose works he interprets so brilliantly. Garfield's virago of a mother (Ruth Nelson) feeds upon Crawford's jealousy, planting the seeds of guilt for (allegedly) holding her son back. The ultrastylish suffering of Joan Crawford and the street-punk insouciance of John Garfield (who looks like a "Dead End Kid" even while wearing a tux) is counterpointed by the phlegmatic comedy relief of Oscar Levant.
Critic Reviews for Humoresque
Audience Reviews for Humoresque
Coincidentally enough, in 1946 both Bette Davis and Joan Crawford starred in mediocre melodramas set in the world of classical music. Davis's vehicle was called "Deception," Crawford's "Humoresque," which is the name of a style of Romantic music. Also coincidentally, I happened to review the Davis film just a couple months ago. Crawford's film has the far better title, but the films are equally shallow and phony. Audiences in the 1940s flocked to theaters to watch Davis wreak vengeance and Crawford cry of a broken heart. Writers tried to dream up situations where revenge or self-pity would seem authentic to the characters, and they mostly failed. All through the second of half of the over-long "Humoresque," Crawford's self-lacerating destruction seems fake. Her character is in love with a superstar violinist played by John Garfield, and he's in love with her. For the story of doomed love to work, there has to be a compelling reason why the couple can't be together. But there is no good reason. I kept wanting to scream at Crawford's character: Just marry the guy already! There are great elements of "Humoresque" though. The first half-hour is scintillating. It tells the story of the Garfield character, growing up in a working-class family in the Bronx and breaking the social code by falling in love with the violin instead of the baseball bat. We watch him struggle with the competing concerns of developing his artistry and helping his parents put food on the table. His parents emerge as authentic and fully realized characters in their own right. And rarely have I seen Garfield feel so at home in a role. Then he meets the Crawford character, a high-society alcoholic in a loveless and childless marriage. They meet at a high-society party hosted by Crawford. This party sequence is so good that it should be as legendary as the party scenes in "All About Eve." The dialogue in this sequence was so brilliant, I wrote some of the lines down: - You just spoiled the beginning of an odious relationship. - Every time I look at you, I get a fierce desire to be lonesome. - With all that talent, he'll probably end up in jail. - I'm constitutionally given to enthusiasm about nothing. Clifford Odets is credited with writing the script, based on a novel of the same name by Fannie Hurst. But I get the feeling that Odets for the most part had his script dumbed down by the Warner Brothers assembly line of hack script doctors. Only the party sequence bears the mark of a genius writer. Yes, there's a lot of great music played in the film. In fact I think there's too much. I don't watch movies to listen to an hour of music. No matter how great the music is, that's not what cinema is about for me. I can listen to great music any time. I don't have to go to the movies to hear that. Director Jean Negulesco continually put long concert sequences in the film whenever he ran out of story ideas.
William Dunmyer
Super Reviewer
½
A well-done classic film. Joan Crawford is great as an unstable and empty rich wife, threatening the success of a talented violinist. The acting performances are top notch all around. Notable was the mother of the violinist. The orchestra performances are a spectacle. High quality production and direction too. I remember SCTV doing a skit based on this. The scenes on the beach on the end are well conceived. This movie caught my interest all the way through.
Lafe Fredbjornson
Super Reviewer
Goes on a little with the musical bits, (although some would probably see that as a positive thing). It also felt to me like this movie took a very long time to get going. About half way through it really does pick up and though I had gathered it probably wouldn't end well, the end was a shock. Joan Crawford, as usual, plays a strong woman, although with vulnerability you don't see straight away. I had sympathy for her, though I am not sure she was intended to be that way. A must see for fans of older films.
Nicki Marie
Super Reviewer
Humoresque Quotes
There are no approved quotes yet for this movie.