Humpday
(2009)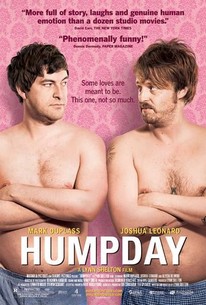 TOMATOMETER
AUDIENCE SCORE
Critic Consensus: Observant and insightful, this indie comedy takes a different tack on the "bromance" but still makes a point without sermonizing.
Movie Info
It's been a decade since Ben and Andrew were the bad boys of their college campus. Ben has settled down and found a job, wife, and home. Andrew took the alternate route as a vagabond artist, skipping the globe from Chiapas to Cambodia. When Andrew shows up unannounced on Ben's doorstep, they easily fall back into their old dynamic of macho one-upmanship. Late into the night at a wild party, the two find themselves locked in a mutual dare: to enter an amateur porn contest together. But what kind of boundary-breaking, envelope pushing porn can two straight dudes make? After the booze and "big talk" run out, only one idea remains-they will have sex together...on camera. It's not gay; it's beyond gay. It's not porn; it's art. But how exactly will it work? And more importantly, who will tell Anna, Ben's wife?
News & Interviews for Humpday
Critic Reviews for Humpday
Audience Reviews for Humpday
After a drunken dare two male friends, one of whom is married, agree to shoot a sex scene together. The first scene with Ben and Anna lying in bed is almost perfect exposition. In fact, the entire first act is well-written and strongly acted. The characters' relationships are clearly set up, and the plot unfolds organically. Humpday feels like an improvised film, and though there's a certain verisimilitude to this style, I longed for a control over the language. Also, the plot between Ben and his wife never reaches a real finish. Her third act decision is not the end of the conflict, and I think the film should have found a way to resolve her storyline. Overall, there's a lot of good work in Humpday, a strong but flawed film. Ov
Jim Hunter
Super Reviewer
½
Andrew: That's the tricky thing. It's the difference between this and bungee jumping, is that bungee jumping, you just walk to the edge and jump...  "Some loves are meant to be. This one, not so much." I really enjoyed Humpday a lot. I should say I love these indie comedies and the mumblecore genre in particular. Humpday is one of the best you could hope to see. The clear improvisation is highly impressive. I sensed times when Alycia Delmore didn't quite know what do to, but other than that, the conversation scenes are incredibly well done. Another thing I have to say is that about 80% of the laughs that come out with this film are the result of awkwardness. If awkward humor isn' your thing; I wouldn't suggest watching this one. A lot of the humor is in moments when we sense the awkwardness between characters. I absolutely love awkwardness in comedies, so that just helped me enjoy the film all the more. I can understand Humpday not being for everyone. It could be considered to talky, but that's all mumblecore really is. It could also be viewed from the heavily conservative side as racy stuff. There's a lot of elements that could detour your enjoyment of the film, but if you can take satisfaction out of everything the movie employs, you will not be disappointed. Now to the plot. Ben is married man, who is also trying to conceive a child. His longtime friend, Andrew walks into his life after not seeing him for years. After a night of drinking with some highly "hippish" people who were constantly talking about Humpfeast, which is a big porn festival; Andrew and Ben come up with the great idea to do a sex scene together. As the time gets closer, it obviously gets more awkward. The awkwarder the better in my opinion. This is a movie that could be viewed as trash by anyone who just looks at the surface story. From that view, all it is is an experimentation by two men, that has no real value. But if you look to the inner messages and it's views on friendship; you'll be able to get a lot more out of it. This isn't a film I would necessarily recommend to people I know. There are some people that just wouldn't give a movie with a plot like this even a chance. If you can put the plot synopsis behind you, I think you would really be surprised by the outcome. Maybe you'd even like if, as I did.
Melvin White
Super Reviewer
Okay, if you're like a friend of mine, who finds scenes of extreme awkwardness so uncomfortable that you're not even willing to sit through them (squirming), then stay well away from this film. If however, you're like me, and willing to laugh at the holes that machismo can sometimes dig for itself, you'll laugh your ass off. Which is what I did. I guess I see something of myself in the speech patterns, vocabulary and points of views of these characters, and I can completely root for these two confused jackasses. While they're drunk at a party, they decide to enter an amateur porn competition, and they hang onto the idea once they sober up the next day. Their pact to screw each other on camera becomes a dumbass game of pseudo-intellectual sexual chicken. They end up investing way too much of their identities in their pact, despite the fact that they both have real, actual and valid reasons to go through with it. Ben wants to prove to himself that he's not the button-down domestic prude that he looks like, and Andrew wants to prove to himself that he's the Bohemian artist that he believes himself to be. But despite their platonic closeness and their obvious brotherly love for each other, they have to struggle to find some way to overcome their biggest hurdle: namely, neither of them are the slightest bit gay. This movie is such a scream. It's not often that a pair has to have impossible sex to save the friendship, but here we are. Man, I love this movie so much.
Emily Armstrong
Super Reviewer
Humpday Quotes
There are no approved quotes yet for this movie.