Hunger
(2010)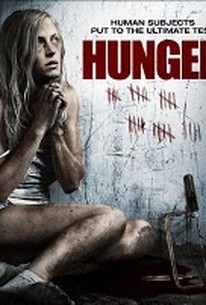 AUDIENCE SCORE
Critic Consensus: No consensus yet.
Movie Info
Five strangers realize they've become the unwitting subjects of a macabre experiment after awakening in a darkened dungeon with no means of escape, and no food to keep them nourished. Now, with each hour that passes, their desperation grows, and their humanity erodes. Lori Heuring and Linden Ashby star.
Critic Reviews for Hunger
Audience Reviews for Hunger
½
Hunger is not bad, it does live up to its title and made me hungry. 5 people trapped down in a cave and are forced to have nothing to eat for 30 days by a sadistic psychologist. When I say nothing to eat, I didn't include each other so the experiment is a test to see who has the strongest willpower. I liked the script, even though it's a low budget film, it played out quite well, there was a detailed background story for each character. The acting was surprisingly good, it didn't really have a low budget feeling to it. My only problem was that the running time was too long, there were a lot of unnecessary shots that could have been removed to make the film flow nicely. The ending was surprisingly good, somewhat an alternative version of the hole. Hunger is an underrated little gem.
Sylvester Kuo
Super Reviewer
½
Fangoria Frightfest film number three is Hunger, which many people have compared to Saw. Yeah, this movie is Saw, if Saw had the people locked in an empty room, had no budget, and Jigsaw was a mute cannibal. Hunger is most defiantly a ten on the gross out scale, but besides that it has absolutely nothing going for it. Seldom have I seen a horror film that is as pointless or moves as slowly as Hunger did. The film is only one hundred minutes, but it felt as though I was watching it for days! The star of the film is veteran horror actress, Lori Huering, whose character is pretty well written, but is also unfortunately as dull as the rest of the cast. Most reviews for Hunger have been favorable and I can't understand that. Aside from the victims arguing with each other, there is hardly any dialogue. There is also zero character development, which is crucial in a film like this. If the audience doesn't give two shits about the victims or what happens to them, then what's the point? Hunger tries to shock you with it's level of gore, but more concerning is the lack of substance and the laziness of the film makers. Yes, the ripped off most of their ideas from Saw. Saw had a tremendous villain and a fascinating story that spawned six squeals, while this film is so lazy that after a month of isolation, the men's beards didn't even grow! Somehow, Hunger got to be part of a major horror festival, but it most defiantly represents the festivals lowest point.
Todd Smith
Super Reviewer
½
The plot involves five people placed into an isolated dungeon with water but no food. As days pass, they get weaker and sicker becoming so depraved that they resort to attacking each another, in order to survive. Mean while a psychopath monitors them from his home computer, via hidden cameras. His enjoyment at seeing his subjects tearing themselves apart becomes even more macabre when the reason is revealed during the course of the film. On his wall are photographs and written information about each subject to determine how they will contend with having no food, documenting their bodies desire for sustenance once deprived of food for over 24 days. The movie delves into the darkness of the human condition and poses the question of how far can one go before losing humanity. What will you do if faced with a similar situation? Would you rather die?
Hunger Quotes
There are no approved quotes yet for this movie.