Hunter Prey
(2009)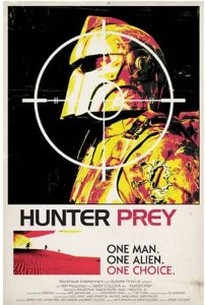 AUDIENCE SCORE
Critic Consensus: No consensus yet.
Movie Info
A group of intergalactic soldiers fight for their lives on an inhospitable desert planet after their spaceship crashes while transporting an extraterrestrial prisoner. When their captive stages a daring escape, the soldiers receive orders to bring it back alive at all costs. That proves to be a challenge when the creature begins hunting its captors, killing them off one by one as they strain to recapture it without using lethal force. Before long, only one soldier is left standing. He realizes that the longer he refrains from killing the alien the more likely it is he will become its next victim. Eventually, the soldier uncovers the truth about his mission, which prompts him to reassess his situation from an entirely new perspective.
Critic Reviews for Hunter Prey
All Critics (2) | Fresh (2) | Rotten (0)
It can be written off as Enemy Mine on Tatooine, but it is also brainier and more fun than your average made-for-the-SyFy Channel movie . . .
Audience Reviews for Hunter Prey
½
If you can find this I highly recommend it as its a great low budget sci-fi flick in the same realms as 'Enemy Mine'. The plot is almost the same as 'Enemy Mine' accept the two races don't make friends and the alien race is introduced as the hero element, where as the human, in a neat little twist, is introduced as the creature (you don't realise he's human at first) on the run and becomes the enemy...almost. Depending how you look at it. The thing that impresses about this film is the really nice makeup work on the alien masks and the costume. Prop work isn't that original looking (think 'Predator' armour mixed with a Clone Trooper from 'AotC') but it looks good set against the clear blue skies and yellow/orange rocky desert of the planet its all based on. The musical score is also pretty good, almost too good for a small film like this which was another surprise. Cast wise there are no big names but the acting is perfectly fine with some solid stunt work throughout. You must be a total sci-fi fan to enjoy this on its numerous levels, its not a fast action packed flick and its not filled with cheap looking CGI. Its actually very well made simply because the director has tried to focus the film with good characters and a good story, without the help of lots of money which can corrupt a persons way of thinking. His film was obviously made with lots of love and attention to make it as real as possible and not to rely on CGI. Think a really good episode of Star Trek, only down side is the ending is left open which could lead to a poor sequel, or we may never know what happens if they don't make further movies.
Phil Hubbs
Super Reviewer
Sedonian soldier chases prisoner across big desert. Made for a meagre half a million dollars, there's no big set pieces, just a lot of sand. And conversation, as the balance of power shifts between the two protagonists. A bit like Sleuth with Power Ranger costumes.
½
Old school low budget sci-fi that is a breath of fresh air compared to the oversaturated CG reliant, bloated studio films. Everything gets high marks and makes me believe that people can still make films with heart instead of product tie-ins.
A.D. Villarreal
Super Reviewer
Hunter Prey Quotes
There are no approved quotes yet for this movie.