Hush
(2016)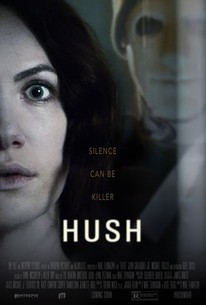 Movie Info
In this heart-pounding thriller from acclaimed writer and director Mike Flanagan (Oculus, Before I Wake), silence takes on a terrifying new dimension for a young woman living along in the woods. Author Maddie Young (Kate Siegel) lives a life of utter isolation after losing her hearing as a teenager. She's retreated form society, living in seclusion and existing in a completely silent world. But one night, the fragile world is shattered when the masked face of a psychotic killer appears in her window. Without another living soul for miles, and with no way to call for help, it appears that Maddie is at the killer's mercy... but he may have underestimated his prey. As this horrifying game of cat and mouse escalates to a breathless fever- pitch, Maddie must push herself beyond her mental and physical limits in order to survive the night.
Audience Reviews for Hush
½
Absolutely terrifying, Hush is an intense and frightening indie horror thriller. The story follows a deaf woman who lives in a secluded house in the woods, and is preyed upon by a psychopathic killer. The script is especially well-written, doing an impressive job at having the character work her way through the problems that she faces. And, making the character deaf gives a fresh new angle to the classic cabin in the woods scenario; heightening the tension and suspense. Lead actress Kate Siegel gives an incredibly visceral performance that captures the raw terror and desperation of the character, and director Mike Flanagan does a good job at showing how trapped and isolated she is. Additionally, the violence is remarkably gritty without being gratuitous. A well-crafted horror film, Hush taps into our primal fears.
Dann Michalski
Super Reviewer
It's what it says on the tin. A standard stalk prey kinda scenario. ð???
Film Crazy
Super Reviewer
I cannot see what the fuss about this is. Utterly conventional home invasion thriller, plodding predictably towards the inevitable ending (helpful corkscrew at fingertips as final strangulation begins). A dull, mostly incompetent antagonist running in circles around a house apparently fully glazed with safety glass and with no particular geography. And unlike the recent, excellent 'Don;t Breathe' the heroin's deaf-muteness does abolutely nothing to advance the plot of complicate the circumstance beyond making her slightly more vulnerable than she would be, completely alone in an isolated location with a murderer. Stylistically dull, by-the-numbers, and the only tension comes from yelling 'Oh why the f**k did you do that?!' at the screen. Plus a ludicrous 'inner voice' sequence that does nothing but add pointless exposition to an already obvious situation.
Charles Brennan
Super Reviewer