Hustle
(2004)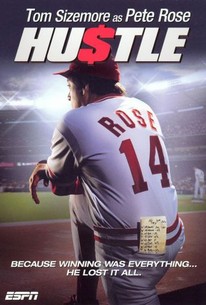 AUDIENCE SCORE
Critic Consensus: No consensus yet.
Movie Info
Few figures in professional baseball had a career quite like Pete Rose -- and practically no one who climbed so high fell so hard. Rose made his major-league debut playing second base with the Cincinnati Reds in 1963; nicknamed "Charlie Hustle" for his daringness and enthusiasm over the course of his career, Rose played in eighteen All-Star games, earned three World Series rings, broke Ty Cobb's record for career hits, and in 1975 was named Sportsman of the Year by both Sports Illustrated and The Sporting News. In 1984, after six years with other teams, Rose returned to the Reds, signing on as both player and manager at the age of 43; he continued to play until 1986, and stepped down as manager in 1989. That same year, a dark secret Rose had been hiding for years came to the surface -- Rose had for years been dealing with an addiction to gambling, and after falling deep in debt to bookies by betting on horse racing, he attempted to make the money back by betting on baseball, including wagering on his own team and his own games. These revelations led to Rose being banned from professional baseball, a stay in prison when an IRS investigation discovered he had failed to pay taxes on sale of memorabilia, and a decision that would prevent him from entering the Baseball Hall of Fame, though Rose denied the gambling allegations. (In his 2004 autobiography, Rose finally confessed that he did gamble on baseball but denied betting on his own teams.) Hustle stars Tom Sizemore as Pete Rose in this biographical drama produced for the cable sports network ESPN, which chronicles Rose's rise to fame, his fall from grace as he became involved with gambling, and Rose's ongoing fight to be inducted in the Baseball Hall of Fame. Peter Bogdanovich served as director.
Critic Reviews for Hustle
All Critics (3) | Fresh (1) | Rotten (2) | DVD (3)
[Sizemore's] performance can best be summed up as Al Pacino by way of Moe from The Three Stooges.
Perhaps one day someone will make a truly even-keeled movie about the life of Pete Rose ... but this flick doesn't even come close.
Sizemore beira perigosamente a caricatura, enquanto Bogdanovich conduz a narrativa de forma tristemente burocrática. Ainda assim, é uma boa história.
April 8, 2005 | Rating: 3/5
Audience Reviews for Hustle
He's not in the Hall of Fame, nevertheless, Pete Rose was still one of the best players in Baseball history. He played for an amazing 27 years, setting the all-time hits record, but this film ignores all of that. I'm a baseball fanatic and I find bio-pics, like this one, to be a great tool for learning more about the people who came before my time. Hustle was unfortunately very one sided and focuses entirely on Rose's activities after his playing career. Tom Sizemore stars as Rose and makes this film worth watching, he really does do a tremendous job, and that's the only reason this film is rated ad highly as it is. After doing some research, it turns out that the events in this film are historically accurate, but blown way out of proportion. Hustle makes Pete Rose look like a junior gangster, running around Cincinnati, ripping people off, and using anyone that he can find. The truth is that Pete Rose was a sick man with a gambling addiction. He got in over his head and yes, he started betting on his own sport and even the team he managed. Rose was never buddy buddy with the mafia, he never bet hundreds of thousands of dollars at one time, and he was never involved with drugs. This film makes a case that Pete Rose was a small time gangster in a baseball uniform and that's simply not true. The man had an addiction that he's been treated for. This addiction cost him his career, his status, and even his family. 25 years later, he's admitted to what he's done and has sincerely apologized. I personally think, it's been long enough and it's time to put the man in the Hall of Fame. It's also time for someone to do an accurate film depiction of Rose, that shows the good along with the bad, something Hustle simply doesn't do.
Todd Smith
Super Reviewer
Hustle Quotes
There are no approved quotes yet for this movie.