Hybrid
(2008)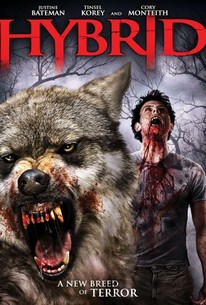 AUDIENCE SCORE
Critic Consensus: No consensus yet.
Movie Info
An experimental, cross-species organ transplant causes a young security dispatcher to begin acting on his animal instincts in this curious take on the werewolf legend starring Cory Monteith and Justine Bateman. When Aaron Scates (Monteith) was blinded in an explosion, he thought he would never see again. When Aaron is placed under the care of Dr. Andrea Hewlitt (Bateman), however, it begins to appear as if there may be hope for his sense of sight after all. Renowned for her extraordinary yet controversial medical breakthroughs, Dr. Hewlitt is currently exploring the prospect of animal-to-human organ transplants. When museum curator Lydia Armstrong (Tinsel Korey) arrives at Dr. Hewlitt's office carrying a critically injured wolf, Dr. Hewlitt senses the perfect opportunity to finally put her theories to practice. But while Dr. Hewlitt does manage to successfully transplant the wolf's eyes to her desperate test subject, Lydia makes no secret of her objection to the operation. In the aftermath of the surgery, Aaron not only regains his vision, but acquires such unique abilities as the power to see on the dark and a heightened sense of hearing as well. But when Aaron begins to crave raw steak and target people as prey, it becomes readily apparent that he's undergoing an unusual transformation. Now the only person capable of understanding Aaron's bizarre plight is Lydia, because she, too, is a cross-breed. With the help of her shaman friend Lydia has learned to harness her feral instincts as a source of strength, but will Aaron be capable of accomplishing the same formidable feat, or will his animal instinct ultimately get the better of him?
Critic Reviews for Hybrid
Audience Reviews for Hybrid
Though it's true to say that there are a couple of bearable things in Hybrid, for the most part it's just regular-type terrible. Imagine making a really bad werewolf movie, and then taking out the part where there's a werewolf. Then you'll more or less have Hybrid. It's part of the Maneater series but for the life of me I can't work out why, other than its being aired on the Sci-Fi channel they have virtually nothing in common. Hybrid decides that if it rips off The Eye, Hulk, Aliens and a nature documentary, it will churn out a movie that'll appeal to fans of The Twilight Saga. And maybe it would, but seeing as I don't fall into that category, Hybrid can fuck right off. There's this kid from Glee in the lead role. He's not a werewolf, he's like, part-man, part-wolf. But the only part of him that's wolf is his eyes, which apparently means he can speak wolf and randomly attacks people and stuff, but he doesn't like, turn into a werewolf on a full moon or anything. He just jumps around and pretends he's native-American instead of white. He's very white. There is of course the obligatory wise old Native-American who actually ISN'T white to make philosophical anecdotes about nature, spirit animals and the great circle of life, but it's so stupendously forced they may as well have not bothered. Honestly, Hybrid is one of the only movies I've reviewed that I've had to physically force myself to watch just for the sake of reviewing. There's a hundred flaws in the film but the worst of all is that it's just fuckboring! There's no point in entertainment that isn't entertaining. Though I suppose there was physically room for it to get worse, sure, Hybrid is overabundant with genuine terribleness, watch out for this one, but by all means, don't watch it. Unless of course you happen to love American mysticism, bad films, nature documentaries that don't make sense, Twilight and Glee, of which, I'm sad to say there is probably a lot of. 9% -Gimly
A pretty clever idea for a film is the only good thing I have to say about this film. The acting was a little bad, and the pace was extremely slow. However, there was some pretty interesting parts in here that were a little entertaining. Not the best work SyFy has done, but still pretty good.
Jacob Palacio
Super Reviewer
Hybrid: part of the Maneater series. Though I've only seen one other in this series, so far this was the worst of the two. A Male is given the eyes of a wolf in a medical transplant. Beyond any shadow of a doubt it was made for TV, Late Night TV at that. Wouldn't hold up in the theater. The Native America male played the best part. Glad I rented it as I hate to pay full price.
Bruce Bruce
Super Reviewer
Hybrid Quotes
There are no approved quotes yet for this movie.