Hype!
(1996)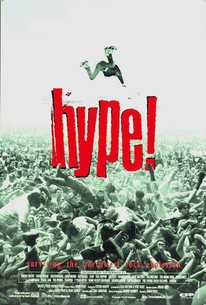 Movie Info
Doug Pray's entertaining and opinionated documentary on the Seattle music scene takes the (admittedly unusual) position that the Grunge Explosion of the mid-1990s was the worst thing to happen to rock music in the Pacific Northwest. Hype! depicts Seattle as a town where a fertile musical community with a distinctive sound and style grew largely because it was ignored by the rest of the world. Once the unexpected success of Nirvana, Pearl Jam, and Soundgarden made Seattle the rock capital of the world, drugs took hold, opportunists scrambled for the spotlight, and cheap flannel shirts became "grunge fashion." The movie features revealing (and often hilarious) interviews with members of such groups as Mudhoney, the Mono Men, the Fastbacks, Seven Year Bitch, Tad, Girl Trouble, Gas Huffer, Dead Moon, and the Supersuckers, as well as performance footage of all these bands and informed perspectives from a number of behind-the-scenes figures. It also features a technically shaky but historically priceless clip of Nirvana's first public performance of "Smells Like Teen Spirit".
Audience Reviews for Hype!
I'm on a rock doc kick at the moment and it's been about a decade since I watched this film. We used to watch this film all the time in high school. shit. I've dated myself. Anyways, if you like music and you remember the 90s, this movie is a must see. Is grunge 'retro' yet? I think it might be time to get the band back together... Up next. Reality Bites!
Required viewing for fans of grunge music, this is just an extremely well-made documentary. Filled with candid, insightful interviews and incredible music, it's an evocative portrait of a wild phase in rock music. As someone who loves grunge, I was captivated by this film.
Add a review (optional)...
Tobias Ximénez
Super Reviewer
Hype! Quotes
There are no approved quotes yet for this movie.