Hysterical Blindness
(2002)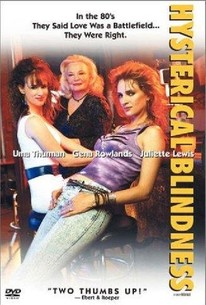 Hysterical Blindness Photos
Movie Info
Two aging single women in 1980s New Jersey enact a depressing routine of deluded barroom romance in this made-for-cable drama. At least 15 years after her father walked out on her, Debby (Uma Thurman) still has issues with men. She spends her evenings carousing with best friend, Beth (Juliette Lewis), and her hung-over days working customer service and dreaming of a proper romance. Debby's endless stream of dissatisfactions includes single mom Beth's precocious daughter, whose needs sometimes interrupt the women's search for boyfriends, and the shrewish condescension of her older co-workers. But on the very same day that high-strung Debby experiences a bout of hysterical blindness at work, she enjoys a strained encounter in the parking lot of her favorite watering hole with handsome construction worker Rick (Justin Chambers). This brief flirtation convinces Debby that she's finally found Mr. Right, but it's obvious to anyone else watching that Rick is Mr. Right Now, at best. As the relationship staggers along, Debby becomes convinced that the same is true of Nick (Ben Gazzara), the kindly widower who is courting her waitress mother, Virginia (Gena Rowlands). But even Nick's fatherly overtones and fine intentions can't shield Debby and Virginia from the vicissitudes of life. Executive-produced by star Thurman, Hysterical Blindness was directed by Mira Nair, fresh off the success of the art-house hit Monsoon Wedding. The associate producer was writer Laura Cahill, who adapted her own play for the small screen. The film premiered August 25, 2002, on HBO.
Critic Reviews for Hysterical Blindness
Audience Reviews for Hysterical Blindness
½
Great movie by Mira Nair. Seen this before, but couldn't entirely recall the movie. So, I sat down and watched all of it all over again. Here's an interesting movie, solely for the females. This is it. Intriguing story plot. One cannot help but relate to poor Debby. Hilarious! Great cast. A definitely must-see!
Hysterical Blindness Quotes