I Am
(2011)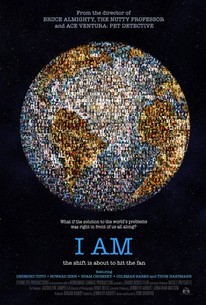 TOMATOMETER
AUDIENCE SCORE
Critic Consensus: I Am is undeniably well-meaning - and unfortunately proof that a filmmaker's best intentions aren't enough to guarantee a worthwhile viewing experience.
Movie Info
I AM, a prismatic and probing exploration of our world, what's wrong with it, and what we can do to make it better, represents Tom Shadyac's first foray into non-fiction following a career as one of Hollywood's leading comedy practitioners, with such successful titles as "Ace Ventura," "Liar Liar," and "Bruce Almighty" to his credit. I AM recounts what happened to the filmmaker after a cycling accident left him incapacitated, possibly for good. Though he ultimately recovered, he emerged a changed man. Disillusioned with life on the A-list, he sold his house, moved to a mobile home community, and decided to start life anew. Armed with nothing but his innate curiosity and a camera crew, Shadyac embarks upon a journey to discover how he as an individual, and we as a race, can improve the way we live. Appearing on-screen as character, commentator, guide, and even, at times, guinea pig, Shadyac meets with a variety of thinkers and doers--remarkable men and women from the worlds of science, philosophy, and faith--including such luminaries as David Suzuki, Noam Chomsky, Howard Zinn, Archbishop Desmond Tutu, Lynne McTaggart, Ray Anderson, John Francis, Coleman Barks, and Marc Ian Barasch. An irrepressible Everyman who asks many questions but offers no easy answers, he takes the audience to places it has never been before, and presents even familiar phenomena in completely new and different ways.
Audience Reviews for I Am
Famed comedic director Tom Shadyac's entry in to documentary filmmaking is an interesting one. With I Am, his scope is big-- a dissection of the world's problems, the mechanisms behind those problems, and the solutions to them. Through interviews with scientists, philosophers, and spiritual leaders, he paints a rather broad canvass that spans from philosophical to metaphysical. What I felt I Am was weak in was its presentation of talking heads and their insights in to the world's problems. Many obvious things were said, "poverty", "way", "hunger", yet there wasn't much of a dissection in to those specific issues. Saying, for example, that capitalism is exaggerates these problems is politically correct, yet logically unfound. The film contained too many of these large pronouncements, which distracted from what the film did right. It simply stated many things as fact without backing them up--what about, for example, the higher standard of living produced by capitalistic nations in comparison to the more "egalitarian" governments? The strongest part of I AM was, undoubtedly, the exploration of quantum theory and some of the new revelations that have come to light. The power of consciousness and its relation to reality is immense, and the film did a good job explaining this. Had the film focused more on this, and less on the platitudes, it would have been all the stronger. Overall, thought-provoking, but uneven. 3/5 Stars
Jeffrey Meyers
Super Reviewer
I Am Quotes
There are no approved quotes yet for this movie.