I Am a Fugitive From a Chain Gang
(1932)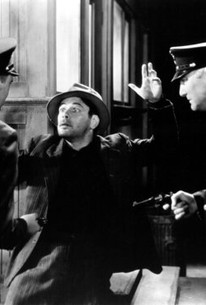 I Am a Fugitive From a Chain Gang Photos
Movie Info
Wrongfully convicted for a hold-up, a war vet sentenced to a chain gang escapes and builds a new, respectable existence, only to realize he can never be free of his past. This classic, still-powerful reality-based indictment of the Depression-era prison system is the peak of Warner's 1930s school of social realism.
News & Interviews for I Am a Fugitive From a Chain Gang
Critic Reviews for I Am a Fugitive From a Chain Gang
Audience Reviews for I Am a Fugitive From a Chain Gang
Hot off the wheels from Howard Hawks' 1932 Scarface, Paul Muni gives a much more focused and compelling performance as the titular fugitive. The story is based on true events, and the injustices it evokes on the big screen infuriate accordingly. The female roles are (unfortunately) secondary to all other plot elements, but the film still warrants a viewing if but for the political uproar it brought about after exposing the chain gang system.
Kristijonas Fussman
Super Reviewer
If you're not interested in the volatile performance of Paul Muni, the violence of a 30's chaingang, or a morally obscured storyline, then watch this film for its historical and cultural aspects. This film caused an uproar during the heyday of the Hays Code for its portrayal of chain gangs as abusive and negligent means of torture, which at the time was the preferred course of punishment in America. Muni is the original Andy Dufresne, innocent of his conviction, yet forced into hard labor, finally being prodded to escape. The only difference between Andy and James Allen (Muni), being the nature of the escapes, one leading to redemption, another forcing an honest man into a life of crime in order to escape the tragic circumstances of a deadly prison sentence. Besides that, Muni, one of the great stage and screen actors of his time, blew me away with his emotional variance. A gem among Hollywood treasure.
Spencer S.
Super Reviewer
One of the greatest and most famous of the social imperative films of the pre-Hayes Code 1930's, I Am A Fugitive From A Chain Gang depicts a man's decade long battle to attain the unattainable, peace. A truly fantastic Paul Muni plays James Allen, a returning WWI vet who gets wrongfully arrested and sentenced to ten years hard labor at an abhorrent southern work camp. There he -- and 1930's audiences -- witnessed the atrocities of the chain gang institution in the American south. And that was the point -- to expose its cruelty and incite reform. For all its cynicism, this Mervyn Leroy classic is still an absorbing and exciting portrait of one man's hell: from combat to prison to fugitive life, and then finally to the shadowy, soul-sucked, madness that comes with a life fraught with such hardship. Muni's tour-de-force induces not only sympathy, but anger toward the heartless miscarriages of justice that condemn Allen throughout the film. I was by turns enthralled, enlightened, heartbroken, and frustrated by his journey from start to finish. Leroy's 1932 film is a fiery indictment of the chain gang hypocrisy that often lacks subtlety, but never power.
Bob O'Reilly
Super Reviewer
I Am a Fugitive From a Chain Gang Quotes