I Am Chris Farley
(2015)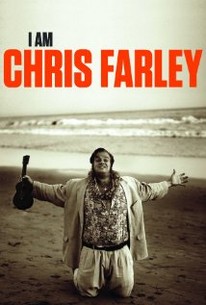 TOMATOMETER
AUDIENCE SCORE
Critic Consensus: I Am Chris Farley lives up to its title by taking a poignant look at the life of the deceased star that should prove affecting and illuminating for novicers and longtime fans alike.
Movie Info
The film, from the directors of A Brony Tale, I Am Evel Knievel and the upcoming Johnny Cash - American Rebel, tells Chris Farley's story, from his early days in Madison, Wisconsin, and at Marquette University, through his work at the legendary club Second City to his rapid rise to the top of the comedy world on "Saturday Night Live" and in hit films like Tommy Boy and Black Sheep. Sharing insights into the beloved funnyman are such co-stars and colleagues as Christina Applegate, Tom Arnold, Dan Aykroyd, Bo Derek, Pat Finn, Jon Lovitz, Lorne Michaels, Jay Mohr, Mike Myers, Bob Odenkirk, Bob Saget, Adam Sandler, Will Sasso, Molly Shannon, David Spade, Brian Stack and Fred Wolf. The filmmakers also speak to Farley's four siblings, including his brother Kevin, a comedian and actor, and his brother Tom Jr., who wrote the biography "The Chris Farley Show: A Biography in Three Acts."
News & Interviews for I Am Chris Farley
Critic Reviews for I Am Chris Farley
Audience Reviews for I Am Chris Farley
Young people in the entertainment industry suffering from inner demons ultimately resulting in their untimely death is, unfortunately, nothing new. Chris Farley was one in a long line of funny people who have succumbed to the dark side of fame and the pressures of living up to the facade they create for the purposes of the public loving them. It is especially interesting in terms of comedians given they are the ones we expect to be of a certain, happy temperament in general, but obviously can't be funny all of the time. The most apt comparison is of course John Belushi who Farley naturally idolized, but also emulated in a way that Farley's need to find energy and inspiration in drugs so that he could deliver what was expected of him also served as his downfall. The new documentary, I Am Chris Farley, is not concentrated so much with the death of Farley though, but more on what life he was able to live prior to his death at the age of thirty-three. While there isn't anything necessarily unexpected about this trip down memory lane, it is certainly affecting and that is coming from a guy who didn't even grow up with the SNL cast that Farley was a part of. No, I was more of a second generation Farley fan, and this insightful look at what the late comedian needed in order to thrive is what makes this candid look at who the man really was really interesting. Beginning with interviews from his three brothers, the film builds a vivid portrait of Farley's pleasant childhood and encouraging upbringing. The film harps a lot on the influence of Farley's father, Thomas, but never touches on what came of that relationship once Chris became famous. As we build towards the years in which Farley became a huge star, the most riveting aspect is simply how self-loathing the man seemed to be and how this low self-esteem heavily influenced who he was on stage. While the interviews with the famous people can sometimes come off a little guarded and rightfully so, I Am Chris Farley never comes off as a fluff piece, but a fair portrait of who this man was while displaying he was to others what he always wanted to be to himself.
Philip Price
Super Reviewer
I Am Chris Farley Quotes
There are no approved quotes yet for this movie.