I Am David
(2004)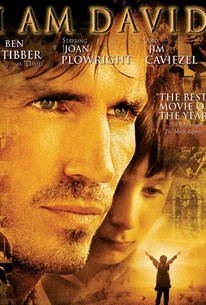 TOMATOMETER
AUDIENCE SCORE
Critic Consensus: I Am David smothers its heartwarming story in narrative contrivances that ultimately render suspension of disbelief - or enjoyment - all but impossible.
Movie Info
Adapted from Anne Holm's 1963 novel of the same name, I Am David is a family adventure film from writer/director Paul Feig, one of the creators of the short-lived, cult-favorite television dramedy Freaks and Geeks. Ben Tibber stars as David, a boy who, with the help of his friend Johannes (James Caviezel), escapes from a Bulgarian prison camp and begins a harrowing journey that leads him to Denmark via Italy. I Am David also stars Joan Plowright, Maria Bonnevie, and Silvia De Santis.
News & Interviews for I Am David
Critic Reviews for I Am David
Audience Reviews for I Am David
Not exactly terrible, but easily forgettable.
Dillon Lupky
Super Reviewer
The story sounds interesting on paper and does succeed in grabbing your interest in the initial moments. But over-drama replaces action and adventure as the story unfolds. I've no problem with some emotional quotient, but the film goes completely overboard its genre and loses its track. The melodrama gave the feeling of "been there, seen it all", and not in a pleasant manner. Having said that, I'd like to add that unlike "Julia's Eyes", it didn't make my head spin as its after-effects either.
familiar stranger
Super Reviewer
This film's two strengths are the harrowing nature of its subject matter and the rather well-constructed reveal at the end. After all, the concept that a young boy was able to escape a Communist concentration camp and journey as far as he did is rather remarkable. But whereas 127 Hours succeeded in at least reaching for a more expansive theme, I Am David can only retreat to shallow, aphoristic moralizing. Throughout the film, the writers give us benign supporting characters, whose intentions David constantly - but I guess understandably - misinterprets. The filmmakers scream at David throughout that people are basically good, and we're supposed to delight when he listens. Such themes may be inspiring on the Lifetime network, but I for one think the human condition is far more complex than this film gives it credit for. Additionally, Ben Tiller, in the eponymous role, plays one or two notes throughout the film, and even these belie any complexity in his character. I understand that he's young, but check out the level of acting Elijah Wood was able to rise to at a similar age in Radio Flyer or The War, two flawed movies, but Wood is excellent in them. Finally, there is a hint of anti-upper-class bias. Aside from the bully brother, what is the difference between the family and Italy and Joan Plowright's character? Both offer David assistance in seemingly generous, pure ways, but the upper-class family is ultimately rejected without a good explanation. Overall, the film's heart is on its sleeve, but it becomes bogged down in cliche melodrama.
Jim Hunter
Super Reviewer
I Am David Quotes
| | |
| --- | --- |
| Sophie: | There are an awful lot of people in this world who have nothing to say, but spend all their time talking. |
| | |
| --- | --- |
| Maria: | You don't know anything good, do you? |
| | |
| --- | --- |
| David: | Is it nice to have a family?....The world is filled with terrible people, and they all do terrible, evil things. I've seen them. |
| | |
| --- | --- |
| David: | I don't want to be scared any more, Johannes. |
| Johannes: | Neither do I. |