I Am Legend
(2007)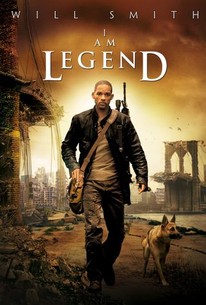 TOMATOMETER
AUDIENCE SCORE
Critic Consensus: I Am Legend overcomes questionable special effects and succeeds largely on the strength of Will Smith's mesmerizing performance.
Movie Info
Adapted from acclaimed author Richard Matheson's influential novelette of the same name, Constantine director Francis Lawrence's I Am Legend follows the last man on Earth as he struggles to survive while fending off the infected survivors of a devastating vampiric plague. A brilliant scientist who raced to discover a cure for the man-made virus as humanity came crumbling down all around him, Robert Neville (Will Smith) was inexplicably immune to the highly contagious superbug. Now the entire population of New York City -- and perhaps the world -- has been transformed into carnivorous bloodsuckers that fear the light and live solely to spread their contagion to any remaining living creature that crosses their path. It's been three years since civilization came to an end, and the loneliness has taken a devastating toll on Neville. By day he scours the city for food and supplies while sending out desperate radio messages in hopes that someone might respond, and by night he attempts to find a way to reverse the effects of the virus by experimenting with his own blood. But time is running out for Neville as the legions of infected watch his every move from the safety of the shadows, waiting for the perfect moment to strike. They, too, long to learn the secret that lurks in Neville's blood, though they will have to take caution while attempting to procure it because Neville will sooner die attempting to slay every last one of them than willingly giving up a single drop. Previously adapted for the screen in the 1964 Vincent Price frightener The Last Man on Earth and the 1971 Charlton Heston action film The Omega Man, Matheson's novelette also served as the inspiration for George A. Romero's groundbreaking zombie classic Night of the Living Dead. ~ Jason Buchanan, Rovi
Critic Reviews for I Am Legend
Audience Reviews for I Am Legend
This post-apocalyptic zombie-based film is strong thanks to in part the special effect/CGI work as well as the strong lead of Will Smith. I Am Legend is graphic in the realms of loneliness and isolation and makes a solid film for audiences to enjoy. 4/5
Eugene Bernabe
Super Reviewer
Will Smith stars as a military researcher who is seemingly the last person left on Earth trying to find the cure for an engineered retro virus that has decimated the human population and turned many into mindless killing machines. It seems to me that the reason a lot of people slated this film was solely because it was not a faithful adaptation of the book it takes its name from. I personally haven't read it and to be honest I don't care if it's faithful or not. A carbon copy adaptation of a book does not necessarily make a good film and vice versa; the two are completely different media. The fact is that I found this pretty enjoyable. Will Smith is quite convincing as a man suffering the loneliness of total isolation and the scenes in the first hour of the film when the "enemy" is still unseen are very effective. It's therefore a pity that it descends into the usual CGI infested Hollywood claptrap for the final half hour. It reminded me of 28 Days Later because of the similar scenario and unfortunately it suffers from the same problem; the set up is great but it didn't seem to know where to go from there. Once the mother and son characters appeared it turned into a dodgy CGI-laden shoot em up and became far less interesting, but it's definitely worth a watch for the earlier scenes. Some of the plot elements are not properly explained and the ending is a little weak, but not bad as a whole.
½
It was thrilling and captivating to watch the first time around. Afterwards the flaws became extremely apparent, yet were eclipsed at times by Will Smith's excellent acting and infusion of humor despite the film's dark themes.
Matthew Samuel Mirliani
Super Reviewer
I Am Legend Quotes
| | |
| --- | --- |
| Anna: | This is his legend. |
| | |
| --- | --- |
| Robert Neville: | "The people who are trying to make the world worse are not taking a day off. How can I? Light up the darkness." [quoting Bob Marley] |
| Robert Neville: | The people who are trying to make the world worse are not taking a day off. How can I? Light up the darkness. [quoting Bob Marley] |
| | |
| --- | --- |
| Robert Neville: | Light up the darkness. |
| | |
| --- | --- |
| Anna: | In 2009 a deadly virus burned though out civilisation, pushing human kind to the edge of extiniction, Dr. Robert Nevillie dedecated his life to the discovery of a cure and the restoration of humanity. On September 9th 2012 at approximately 8.49pm he discovered that cure. and at 8.52 he gave his life to defend it. We are his legacy. This is his Legend. |
| Anna: | In 2009 a deadly virus burned though out civilisation, pushing human kind to the edge of extiniction, Dr. Robert Nevillie dedecated his life to the discovery of a cure and the restoration of humanity. On September 9th 2012 at approximately 8.49pm he discovered that cure. and at 8.52 he gave his life to defend it. We are his legacy. This is his legend. |