I Am Sam
(2001)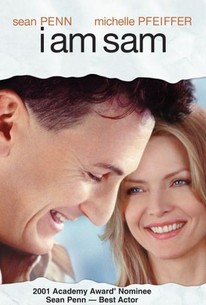 Movie Info
Sam Dawson is a mentally challenged father raising his daughter Lucy with the help of an extraordinary group of friends. As Lucy turns seven and begins to intellectually surpass her father, their close bond is threatened when their situation comes under the scrutiny of a social worker who wants Lucy placed in foster care. Faced with a seemingly unwinnable case, Sam vows to fight the legal system and forms an unlikely alliance with Rita Harrison, a high-powered, self-absorbed attorney who initially takes his case pro bona as a challenge from her colleagues. On the surface the two couldn't be further apart, but in reality they are subtly similar. Sam's compulsive nature is mirrored in Rita's more socially acceptable obsessive-compulsive nature. Together they struggle to convince the system that Sam deserves to get his daughter back and, in the process, fuse a bond that results in a unique testament to the power of unconditional love.
Critic Reviews for I Am Sam
Audience Reviews for I Am Sam
This film, upon its release reeked of Oscar bait. Ten years later, that smell still lingers. I mean, how could it not? It's about a well meaning developmentally disabled man struggling to reclaim custody of his daughter, and prove that he is capable of raising her, even though she is smarter than him. Here's the thing: I'm not an ogre, and I do have a soul. I recognize that this film is sweet, well meaning, and very charming. It has nothing but good intentions. However, this film tries a bit too hard, and is too reliant on cliches and formula. The references to Kramer Vs. Kramer were a nice litle touch, though. Yeah, this film is heartwarming, and inspiring, but it's overbearing, and it is a feel-good movie to the extent that none of it is really earned. I feel like the film went to a route that was expected and that it did so just because the filmmakers felt levity over reality would be better. Sometimes I'm okay with that, but in this case, I just couldn't get onboard. I do like the performances though. The cast is likeable, and they all put a lot of effort into things, but, like the film overall, they try to hard, hence why Sean Penn got a nomination, but went home empty-handed. He took it too far. His performance isn't offensive, and it is sensitive, but he could have made an effort to dial it down because a little goes a long way. I'm ripping on this movie, but I don't totally hate it. I liked the soundtrack, and the idea to use nothing but Beatles songs was very inspired. Using the originals would have been better, but these are some good covers, so it's okay. You can go out and see this if you want, but don't expect it to be a completely satisfying experience, even though there are some good moments to be found.
Chris Weber
Super Reviewer
Check it out. Dustin Hoffman, 'Rain Man,' look retarded, act retarded, not retarded. Counted toothpicks, cheated cards. Autistic, sho'. Not retarded. You know Tom Hanks, 'Forrest Gump.' Slow, yes. Retarded, maybe. Braces on his legs. But he charmed the pants off Nixon and won a ping-pong competition. That ain't retarded. He was a god damn war hero, do you know any retarded war hero's?
Joe McCall
Super Reviewer
½
I Am Sam presents great actings of the cast and bring a cute, confused and nice story. But the strong sentimentalism, don't save the film. Rotten.
Lucas Martins
Super Reviewer
I Am Sam Quotes
There are no approved quotes yet for this movie.