I Come in Peace
(1990)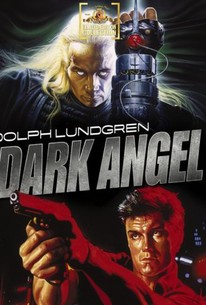 Movie Info
Dolph Lundgren stars as maverick cop Jack Caine, who's teamed with an FBI agent (Brian Benben) to stop an alien who kills humans to feed off their endorphins.
Critic Reviews for I Come in Peace
Audience Reviews for I Come in Peace
What on earth is going on with the film title here I dunno but I prefer 'Dark Angel' for sure. Anyways this was Matthias Hues big flick for which he is most remembered for, which isn't much to shout about. Very silly sci-fi flick about an alien drug dealer sucking endorphins out of human brains to sell all over the galaxy. Its very hokey even for its time and without Lundgren would be total B-movie schlock. Even with Lundgren its still pretty poor with bad effects, terrible acting and only a few impressive car stunts to hand. I mean really...how can you take this remotely seriously with a gang of thugs called 'The White Boys' that are all dressed in suits and look like killer yuppies. Its a classic dumb sci-fi B-movie for sure but I just didn't really like it that much. Benben was constantly annoying and the whole film was trying way too hard with the obvious mismatched buddy cop/hero duo squabbling with each other setup. All this did was come across as boring cliched unoriginal and resulting in some majorly lame forced humour.
Phil Hubbs
Super Reviewer
½
Dolph Lundgren is one of those action stars that is fairly hit and miss and at times, he can displayed something quite good, entertaining and fun even if the film is quite tongue in cheek and that is the case with Dark Angel. This is a hybrid all sorts of genres and it strangely works quite well to be a highly entertaining cult film that is very engaging from start to finish. The result is a worthwhile film that is really one of Lundgren's best. Granted the guy really is sketchy when it comes to "acting", yet he delivers here, and with the plot, which I think is awesome, it's hard to resist. I never go into real detail in any of my reviews, because I believe that the less you know the more suspensewfu7l the experience will be. What the film offers is something truly entertaining from start to finish, and if you enjoy low budget cult action at its very best, then this is sure to wet your appetite for action thrills. Dark Angel is far from great cinema, but for what it is, it's an entertaining ride, one that is so much and thrilling that you forget the films weaknesses exists. This is pure popcorn thrash at its very best, and I say that as a compliment. The film is cheesy, thrilling and riveting, and will certainly entertain anyone that enjoys finding a new, undiscovered action film that is well worth seeing due to its original concept. This is a film that is an impressive cult movie and it certainly is a one that is a must watch for diehard fans looking for new and exciting pictures to watch.
Big Dolph Lundgren tackles even bigger Matthias Hues in this enjoyable sci-fi outing from 1990. Our Dolph plays a tough cop who inadvertently becomes involved in a spot of alien trouble after a hulking interplanetary miscreant murders a group of bad guys Dolph was staking out (and high tales it with the haul of heroin they had in their possession). Why would an alien want heroin you may well ask? Well, it turns out that our alien bad boy has discovered a rather gruesome method of producing an even more powerful drug via it's utilisation.....he simply shoots up unwilling victims and then sucks out their resulting endorphins enriched cranial fluids which he intends to sell back home (where ever that may be)!!! Hardly impressed with this, Dolph decides to investigate this grisly case but finds himself constantly undermined by a number of shady factions entering the fray. Matters eventually come to a head when our two mighty leads battle it out in a factory setting (a popular location for action film finales) and Dolph gets to fire off the obligatory final quip before sending his alien nemesis into oblivion. OK, despite the intriguing premise this is utterly ridden with clichés - the new cop partner, troubles with the girlfriend etc etc etc.. However.....the film works despite it's flaws and proves to serve as a fun ninety or so minutes. At the end of the day, what more could you ask for? Check it out.
David Ladd
Super Reviewer
I Come in Peace Quotes
| | |
| --- | --- |
| Jack Caine: | [while being chased by the White Boys, Larry produces a huge firearm, which resembles a cannon more than a gun] What the hell is that? |
| Lawrence Smith: | A Christmas present from my mother. |